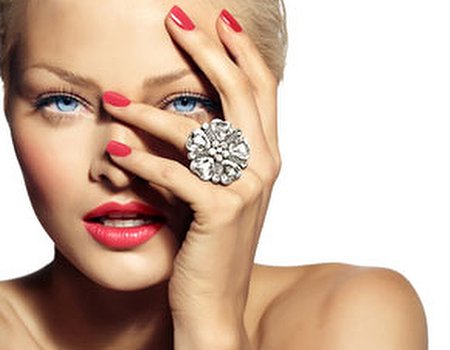 It's fun to keep up with the hottest nail colours around each season, but now there's a new nail treatment in town too – Gelish. Being a dedicated nail-painter myself, I couldn't wait to try out this time-saving treat that promised to leave my nails glossy and bright for up to three whole weeks without damaging my nails - and no, there are no pigs flying overhead…
The therapist
If the prospect of having perfect nails wasn't exciting enough, the fact that I didn't even have to leave my house to have it done made it even better. NAILS BY METS, aka Metta, is a mobile therapist who is currently polishing the nails of beauty lovers across inner and outer London, as well as the Reading area. Specialising in everything from nail art (her own nails had roses painted on them – definitely a good advert for her artistic skill) to the newer trends of Gelish and Minx, Metta knows her manicures and hopes to start on pedicures later in the year when sunshine and sandals start to make an appearance.
The treatment
Metta started by explaining what the process was, roughly how long it would take (an hour usually) and showing me her huge range of nail colours. With classic pillarbox reds, glossy blacks and deep purples, there were plenty to choose from – but I had to go for Gossip Girl, a punchy hot pink that would be perfect for my night out that Saturday.
So what is Gelish? As the first hybrid gel-polish, it's already making a mark on the manicure industry. Unlike conventional gels, Gelish comes in a regular twist-cap bottle with brush, and is applied thinly just as you would a normal nail varnish. The difference is that in between coats it's cured under a UV or LED lamp. Even better, there's no drying time needed, so as soon as the final coat and light is applied you're free to make a cup of tea, do your hair or whatever else is needed – and all smudge free. Too good to be true, right?
Wrong. After a quick cuticle tidy, file and light buffing of the nail, Metta applied the PH Bond to temporarily dehydrate the nail, giving the perfect surface for Gelish to adhere to. A Foundation Gel was then used for the base coat, as well as Structure Gel on the few nails that were looking weaker to reduce potential chipping. Metta then went over the nails with a dry brush to make the surface a little more tacky, which helps the Gelish to stick. Two coats of the gorgeous Gossip Girl shade were applied, and finished with the 'Top It Off' top coat for extra gloss. Between each coat, each hand had to be placed under the UV lamp to set it in place, and Metta (perfectionist that she is) tidied up any stray marks. Once the last round of polish and light was done, I was good to go – without that awkward waving-hands-around action that I usually have to go through to get them to dry.
The result
Well, I am a Gelish convert. Not only was it enjoyable to have my nails pampered in the comfort of my own home, but the result is notably better than my usual high street varnish. For starters, the gloss on the colour is unbelievable – so shiny that they almost look like liquid (but don't smudge – hurrah!). Metta promised that this shine would last as long as the polish, and over ten days later I can safely say she wasn't lying. They haven't chipped, there's no dulling to the surface and if anything my nails feel stronger than ever.
Only time will tell as to whether I can keep it chip-free for the full three weeks, but so far so good. Once it does need to be taken off, Metta will easily remove the Gelish in a fifteen minute appointment with no damage to the natural nail – what's not to love?
Good to know
NAILS BY METS serves London, outer London and Reading. A Gelish manicure is £35; removal is £10 which includes removal of Gelish and then a mini-manicure (cuticle tidy, shape & buff, application of a clear nail conditioner/strengthener and cuticle oil.)  If Gelish is to be reapplied then removal is included in the cost.
Metta recommends using CND Solar Oil every day to soften cuticles and keep the nail area nourished so that it is less brittle and therefore less likely to chip.
Care should be taken when washing up or using detergents – use gloves at all times!
Gelish is currently available in a wide range of 48 colours.  24 brand new colours have already been announced for 2011 and it is anticipated pre-orders will arrive later this month.  You can also create your own bespoke colours by layering different shades.
Gelish is versatile – if you don't fancy the same colour for three weeks, you can paint normal varnish over the top and take off again with non-acetone nail polish remover, leaving Gelish intact underneath.
Gelish was the winner of the Innovative Product of the Year 2010 award