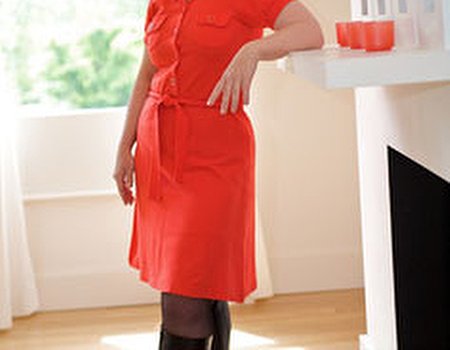 Lowri Turner, fashion-journalist-turned-interior-designer, has ditched the paint buckets and found a new way to transform people's lives at an even more personal level – with their health. After years of battling with weight and health problems, Lowri's found what works for her and is helping others with Va Voom Health – a combination of hypnotherapy and nutritional advice which puts mind over matter so that the faddy diets and short-lived resolutions are well and truly over. Wahanda caught up with Lowri to find out why she's swapped cushions for a couch...
You've admitted to struggling with your weight since a young age – what diets have you tried?
I've been dieting since I was 15 – it started with calorie counting, to the point that I would only eat 600 calories a day. Of course this didn't last – I dropped to just seven stone without doing any exercise but it soon yo-yoed up again so that I'd gone from a size six to a size sixteen in just eighteen months.
Have you had to give up a lot of guilty pleasures when it comes to food and drink?
Most people need a crutch to get through the day – mine is dark chocolate, which is very high in caffeine so I always buy very little bars. My drug of choice has always been caffeine, but it upsets my rosacea; I used to drink tonnes of diet cola – back when I worked in radio I would have had four cans by half past eight in the morning. I gave up alcohol when I had my last baby - I was on an anti-post-natal depression diet which meant essential fatty acids and no alcohol. My skin was better, I was less tired and had more time. The cleaner your diet becomes the more you notice the affect these things have; all I need to do is have one big bar of dairy milk and I'll see a difference in my skin the next day.
You now eat well and maintain a healthy weight – how do you discipline yourself?
I think it's a case of having more knowledge and feeling better because of it. With my rosacea and eczema, and a highly stressed lifestyle I realised that my body was setting off alarm bells. Of course I could have just retired and lived in the country and that would make me better but that wasn't an option – so instead I avoided the things that were causing problems, such as dairy products, chocolate, alcohol and caffeine. I'm not in a food prison – when I was young I was a very picky eater so what I eat nowadays is not restricted in comparison to my Alphabetti spaghetti! Plus I have an 80/20 mantra – be good for 80% of the time and allow yourself some slips for the rest.
Your treatment includes hypnotherapy – have you been hypnotised?
Yes – after my training I asked a friend to hypnotise me. I was going away to Costa Rica and we were planning a plane tour of the rainforest but I'm terrified of heights. I had a session with her to try and combat my fears and it definitely worked – I didn't panic on the tour and even managed to do some zip lining, although that was more for the children's benefit!
What are you trying to achieve when hypnotising clients?
Most people come to me for weight loss – particularly men – and I also get a lot of people with skin problems, and tired working mothers. With the hypnotherapy we try to reprogramme them to stop craving, stop comfort eating and reduce stress – because emotional eating is always down to some sort of stress. It can also build self esteem, especially for overweight clients – it's about building their confidence in their ability to change, making them see that they can do it. One client I had shuffled in on his first appointment, overweight and with no confidence. After losing three stone he walks differently, and even went jogging in public – not something he'd ever have done before. It's really great to see that change.
The emphasis with Va Voom Health is nutrition and mindset – do you include exercise plans too?
Definitely - I set an exercise plan of a minimum of three hour sessions a week. That's forty minutes cardio, to help burn energy, reduce stress, and boost serotonin, and also to help connect with the body. Then twenty minutes of resistance to build muscle mass. Some people need less of a cardio workout, for instance if they have chronic stress, they prefer a calmer exercise such as yoga or Tai Chi to help them restore themselves and relax.
What about you – do you practice what you preach when it comes to exercise?
I have a treadmill at home which I use almost every day. I go fairly slowly, it's a bit like meditation for me once the kids have gone to bed – I see it as my 'me-time' and quite enjoy it!
Why do you enjoy transforming people, whether it's through fashion, homes or health?
When I was young, despite being a big teenager size didn't matter back then – it was about putting on a persona. As a short and stumpy girl I realised it was all down to the clothes for me to transform myself, hence going into fashion. With the home programmes such as DIY SOS, it was at a time where the emphasis was on 'real people' – that was something I really enjoyed as a TV presenter. Health is a much bigger responsibility, which is why I went through a lot of training. It makes it scarier because people are more complicated but I understand human nature – some clients come in and think they're terrible for their diet cola intake but I was much worse. In some ways though the responsibility is off me – because it's about their efforts to feel different.
You're working with Champneys in the New Year – tell us what that's all about?
I'm doing two weekends in January and February called 'Think Yourself Thin' at Champneys Tring, which will be a mixture of group hypnotherapy and one on one sessions to help those who are trying to lose weight. We'll address comfort eating, beating cravings, exercise and talking about the way you think as a thin person – because it's very different. We're trying to reprogramme people's brains in two days to make them think differently about food.
What are your plans for the future?
I'd like to write a book and expand on the mind element. I'm also taking on a clinical psychologist so that we can look into why the clients are comfort eating – because at the moment I have to leave that up to them. With a clinical psychologist plus hypnotherapy and nutritional advice, we are different – we can assess the best balance for people. Some may need more hypnotherapy, some may need more emphasis on the food plan – but it's one flat price per month. It's a very personalised service – they even get to choose their daily treat. We don't count calories or weigh them – if they have a craving one week, we work on it in hypnotherapy the next; it's about keeping them on track.
Lowri's Think Yourself Thin weekend at Champneys Tring is now bookable on Wahanda - why not make your New Year's resolutions stick this year and take part?