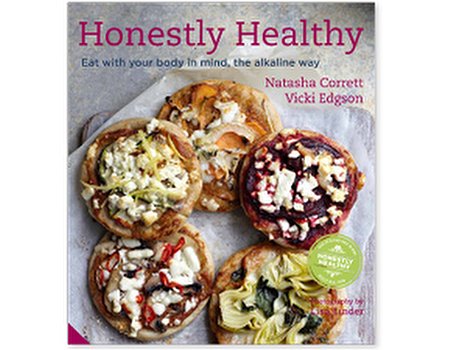 Honestly Healthy aims to teach the world the healing and preventative properties of alkalizing foods. No idea what an alkalizing food is? Fear not, this book explains it all in two parts. The first part details the concept and benefits of an alkaline diet, while the second features over 100 easy, delicious and unusual alkaline recipes for you to try.
Who wrote it?
Honestly Healthy is co-authored by Natasha Corrett and Vicki Edgson. Natasha Corrett is a gourmet vegetarian chef who teaches personal cooking lessons and gives demonstrations in alkaline cuisine as well as running wellbeing and lifestyle retreats in the UK and abroad. Vicki Edgson is a Harley Street nutritionist with 15 years experience practicing nutritional therapy. She has previously published six books and was one of the founders of The Food Doctor. Edgson is a contributing columnist for Psychologies magazine, has co-presented television series Fat Nation and Diet Doctors, and runs award-winning retreats in the UK and abroad. It's safe to say, they know their stuff.
What's it all about?
This book sets out to reveal how addressing the balance of alkaline and acid-forming foods in your diet can improve your health and way of life, alleviating side-effects of an unbalanced diet such as headaches, joint and muscle pain, bloating, sweating, insomnia and even burping after a meal.
The first part of the book teaches the theory behind the diet, identifies alkalizing and acid-forming foods and rates them on a pH scale from Coca Cola (very acidic) to watermelon (very alkaline). This section explains how an alkaline diet can help boost the immune system, increase energy levels, maintain blood sugar levels and focus your mind telling you the best foods to eat and when to eat them and how to break bad habits and learn new ones.
Once you've got your head around the basics you can move onto the second part of the book and put your new knowledge into practise with a huge variety of healthy recipes to take you from morning to evening. Each recipe is designed to rebalance and rejuvenate the body, ranging from snacks and salads to ice-cream and chocolate peanut butter cups all documented beautifully by photographs of the dishes.
What did we think?
A first glance of this cookbook told us immediately that it wasn't like other diet books. Flicking through page after page of mouth watering recipes we wondered how a diet promising to be super healthy could allow us to eat so many of our favourite foods.
When we stopped flicking and began reading the first section of the book we realised that there is a good deal of science behind this diet. It is not just about depriving your body of certain foods, but eating a variety of healthy foods and finding a balance between the three major food groups: carbohydrates, proteins and fats. The concept of balancing is why readers are encouraged to eat some foods that might strike you as 'non-diet' and why all the recipes look so delicious.
On the whole the recipes are pretty straightforward and often accompanied by tips and 'nutritional nuggets' of information. However, you might come across the odd hard-to-source ingredient like Himalayan pink salt and goat's butter, meaning that if you want to follow this diet you will need to plan ahead.
We know you should never judge a book by its cover (or the picture pages), but it is worth mentioning the photography in Honestly Healthy is really beautiful and very inspiring – we want to make/eat everything.
Priced at £20, Honestly Healthy will make a great Christmas present for any serious foodies in your life.
'Honestly Healthy: Eat with your body in mind, the alkaline way' can be bought on the Honestly Healthy website www.honestlyhealthyfood.com