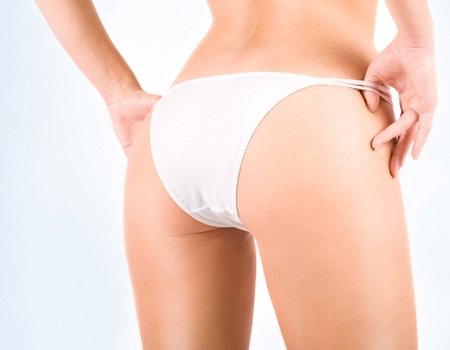 "The statistics show cellulite was non-existent in China before they introduced the fast food chains. Air hostesses are known for having a higher level of cellulite from constant imbalance in the body, being hydrated one minute and dehydrated the next. Taking these statistics into account, cellulite production is not about weight, it's about lifestyle management. Poor circulation, fluid retention and congested digestive systems of a poor diet, stress, drinking, smoking and lack of exercise are all by-products of a toxic lifestyle. These all progressively encourage the advance of cellulite, resulting in the skin's inefficiency over time to eliminate toxins and break down of fat. The good news is, we now have products that are proven to work."
At-home DIY Massage
You can do an awful lot at home and we gravely underestimate the home spa experience. The body responds well to a little TLC, so the best way to approach diminishing those dimples is to take things into your own hands with these three simple steps:
1. Breakdown Combat the appearance of dimples by using a firm cactus body brush daily on dry skin before taking a bath or shower. Using continuous movements, this will stimulate circulation and lymphatic flow. Apply Elemis Body Sculpting Lipo-Refining Serum to help breakdown cellulite and help long term prevention.
2. Smooth out Finding the right product for example our Cellutox Active Body Concentrate will help smooth out the appearance of the orange peel effect.
3. Build up Keeping the flow of circulation onto the area is the key to preventing the build up of cellulite. Taking body enhancement capsules is a great way to stimulate the lymph and metabolism and help maintain good skin and body functions and remember to use our Body Sculpting Firming Cream to help firm the skin.
Power of touch…
After your warm bath, you can naturally stimulate tissue drainage and redefine the silhouette using massage techniques on problem areas such as hips, thighs, buttocks, backs of arms and inside of knees.
Here are some top self massage tips from Noella:
"Apply Elemis Cellutox Active Body Concentrate, (100ml, £29) with both hands and fingertips simultaniously in large circular movements.
Stimulate circulation by squeezing the skin with firm pressure between fingers and thumbs.
Improve overall skin appearance by firmly pounding the area of concern with a closed fist, using the flat of your knuckles up and down."
Elemis Body Sculpting Programme
Combining the power of detoxifying marine extracts and pure plant actives, this clinically proven and award winning daily programme will help detoxify the body from the outside in. This will focus on problem areas and challenge cellulite by stimulating circulation, withdrawing toxins from your body and feeding the skin with the nutrients it needs.
Step 1: Body Sculpting Lipo-Refining Serum, 200ml £40 Designed with a Lipo Refining trio of marine and plant extracts to help minimise the appearance of stubborn fatty deposits and reduce the visible signs of cellulite.
Step 2: Body Sculpting Firming Cream, 200ml £40 This specialist cream targets cellulite to progressively smooth and firm the skin. Containing Bitter Orange Petal to help detoxify the skin, and inhibit fat storage, whilst the unique complex of Organic Silicium and mineral rich Spring Sea Water helps skin feel firmer.
By using both products together over 28 days, studies have proved that 96% of women tested, experienced positive slimming results and 92% found that the appearance of 'orange peel' skin was smoothed, with a reduction of up to 6%*, leaving a slimmer, smoother body contour. (Independent Clinical Trials 2006)
Body Sculpting Cellulite & Colon Therapy Spa Treatment
(from £40 for 1 hour at selected spas and salons nationwide)
This professional salon and spa treatment developed by Noella Gabriel, is a non-invasive treatment that works at the deepest level to flush and cleanse the system. A detoxifying Fennel and Birch peel-off body mask is combined with specialist drainage massage techniques on the hips and thighs to help smooth the appearance of cellulite, boost blood circulation and reduce fluid retention, leaving your skin firmer and smoother to touch. In addition cleansing of the colon through abdominal massage and reflexology continues the purification of the body.