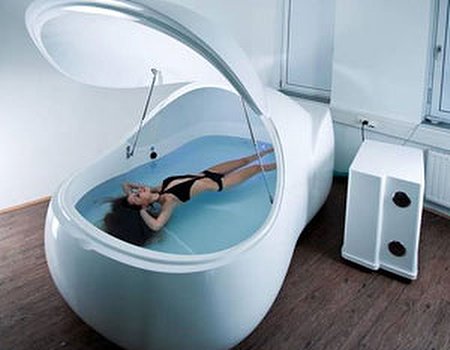 Feeling uptight? Need some relaxing 'me' time? Perhaps sleeping with the fishes is your answer to watery wellness.
We all love the summer but sometimes hours of pounding away at the PC in a sweltering office can leave us feeling flustered. When Wahanda heard about 'Floatworks', the biggest centre dedicated to 'floating' in the world, we had go down and check out this piscine pastime.
Venue
Floatworks itself is situated a quick five minute jaunt from London Bridge station. Ring the buzzer and you are beckoned downstairs into a comfortable waiting area, decked out with leather sofas and tanks full of gorgeous goldfish. The friendly receptionist greeted us with laminated booklets detailing how to get the most out of our treatments, before asking us to swap our shoes for 'spa sandals' (giving the experience a 'posh bowling alley' quirkiness). She also provided us with big, fluffy white towels. We were then asked to fill out some basic details before being shown the treatment rooms.
The decor is minimalist, with each room containing a shower, chair and the all important 'pod'. The pod itself looks like a giant, flat-bottomed mint imperial (nothing like the 'coffin' that scare mongerers had led us to believe) and is wide enough to 'starfish' in, should you wish. With the 'door' flap down, the roof is domed and easily high enough for you to to kneel up. The door itself can be operated from inside, left open, partially open or shut so there's no danger of feeling trapped. There is even a little light inside and a bottle of fresh water to spritz yourself with.
Treatment
Firstly we were told to shower, getting rid of any moisturisers or hair products which might make the crystal clear water in the pods murky. Because the rooms are individual and locked from the inside, there's no reason for swimwear (a pro for all you naturists out there). We inserted the ear plugs provided and stepped into the unknown. Well, the pod anyway. Inside, the water is about a foot deep and contains Epsom salts in a high concentration. This makes floating a great deal easier. Once in, you simply adjust the door and lights to your preference before lying back and allowing the water to hold you up.
Tranquil music plays for the first and last ten minutes and the whole experience lasts for an hour. Once your body relaxes it really does feel like you're weightless and the temperate water means that you remain comfortable throughout. It's perfectly safe to doze or even fall asleep as you will be woken up by your musical 'alarm' at the right time.
After your treatment you can take a refreshing shower in your room using the toiletries provided before using Floatworks' hairdryers, moisturisers and body sprays to ensure you leave fresh and fragrant.
Results
Although it may seem strange at first, the lack of stimulation really does make you feel 'away from it all'. Emerging like Venus from her shell (we wish!), your limbs feel looser and more comfortable as well as incredibly clean. Even your mind feels like it's been re-set. This is explained by Floatworks' Staff, who believe that 'A massive amount of brain-power is used every second in order to deal with the huge strain that gravity places on one's body. As the body is now totally supported, there is little for the brain to do and every muscle is allowed to totally relax.' This gravity free state also causes the brain to release endorphins, the 'feel good' chemicals, so you'll even float out of the treatment room.
It's not mentioned on the brochure, and therefore probably isn't an official benefit, but we actually found that our skin looked really good the next day, possibly due to the antibacterial properties of the water.
Key Facts
The saline solution used in 'floating' is inspired by the way people float in the Dead Sea.
The water in the pods is kept at skin temperature (93.5 degrees) so that once settled, the brain can't distinguish between parts of the body that are in contact with the water, "tricking" it into believing that the person is floating in mid-air.
'Floating' is often used by sportspeople and as a method of pain relief. It is sometimes used in conjunction with hypnotherapy to target specific areas of stress or neurosis.
If you fancy visiting a floatation station for some r'n'r at a bargainous price, check out our exciting Wednesday 30th June spotlight offer.