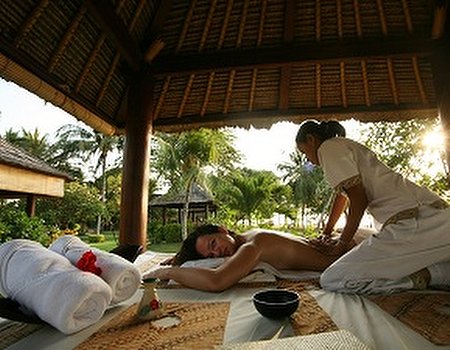 Everyone knows the usual equation for a holiday abroad- take three weeks of surviving on grapes to get that 'bikini body', add a dehydrating flight, a fortnight of rich meals, lazy days and boozy nights and what do you get? A 'break' that leaves you looking and feeling worse than you did before you left. You could be forgiven for thinking you'd be better off spending the money on a swanky gym membership or a spa break.
Well fret no more, Brits abroad because binging and bloating is out and 'wellness tourism' is in. More and more relaxation-seekers are searching further afield for the best in spa breaks, treatments and even cosmetic surgery. So pack your bags and hop on a plane for a holiday experience that'll leave you glowing and perhaps even transformed.
Hot on the heels of this travelling trend is the cosmetic enhancement business. With cosmetic surgery rapidly becoming the norm but still coming with a high price tag, many people find it hard to raise the money they need to follow their body dreams. Whether it's a nip or tuck, often the standards of surgery abroad match or exceed those in the UK without breaking the bank. Recently Iceland Healthcare got in on the act by opening an entire hospital, The Lava Clinic, in a bid to provide an alternative to the UK's high prices and long waiting lists. Also known as the Asbru Health Village, the facility will open in mid 2011 and can be reached in just three hours by plane. With flights from as little as £50 each way and MRSA risk rates at 2%, as opposed to 50% in the UK, it almost seems rude not to...
Countries like Austria however are blessed with natural assets, such as thermal hot springs and gorgeous scenery, making them the perfect location for a luxury spa escape. Air quality and water purity is naturally exemplary in Austria and will soon have you skipping like a mountain goat, which is why it's one of the leading destinations for wellness breaks in Europe. The Austrian landscape also lends itself to outdoor pursuits like mountain biking- great if you fancy working up a sweat before sinking into a hot tub.
If you're after something a little more exotic then why not try a long haul destination spa on a Pacific island, or in Asia. Thailand is renowned for its spas, as you would expect from a country with its own form of massage. Or perhaps Fiji is more your thing - a literal 'paradise on earth', Fiji is home to a host of destination spas, with everything you could want from amazing facilities and accommodation to five star restaurants and incredible wildlife.
If you want to go a little further for your beauty fix, be sure to check out Wahanda's deals and offers for spa-ing that'll literally have you up in the clouds…