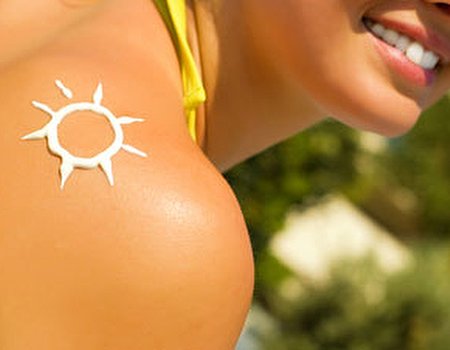 Wahandarers, whatever antics your summer brings, don't forget how important it is to be safe in the sun with a slathering of cream to protect your skin from harmful rays. Whether you're jetting off to somewhere exotic or making the most of Britain's great outdoors, the lobster look is not one to go for - so cover up and get protected.
With so many brands and types of sun protection available on the market, just how do we choose what's best for our skin? Is it best to pick by brand, price or SPF? We've put together a foolproof guide to understanding the differing sun protection factors so you can pick out what's best for you and your precious skin - no excuses now...
UVA vs UVB
The differences between the two main UV rays are often misunderstood. In simple terms, UVA rays are always around even if the sun isn't shining, and can penetrate through glass and some types of thin clothing. The main cause of premature ageing, UVA reaches into the skin and can encourage wrinkles, leathering and sun spots.
UVB rays on the other hand are the ones to shout at when you're suffering with sore, red and angry sunburn, and they're the ones we're protected against by the SPF or Sun Protection Factor in our sun creams. Stronger in the summer months, this side of the sun causes most skin-related cancers and is reflected off snow and water - so skiing in the winter can still increase your chances of developing a red nose or even the big C.
The rules
In the EU, sun creams are now required to provide UVA protection, with a minimum of one third necessary for the SPF level to get the EU's seal of approval. For instance, if the UVA protection is SPF 5, then the overall SPF that's allowed to be advertised on the packaging is SPF15, even if the UVB protection is higher.
Last summer, the FDA (U.S Food and Drug Administration) announced new requirements for non-prescription sun creams to contain equal amounts of UVA and UVB protection and this will come into force this summer - looks out for the 'broad spectrum' label and check before you buy. The good news is this makes us more sun savvy than ever before...
The mathematics
Understanding the numbers behind SPF categorisations can be tricky. Figures range from 2, the very lowest, to 60, which offers the greatest protection against the sun's damaging rays. It's not as simple as it sounds though, in that SPF 10 is not five times stronger than SPF 2. SPF 15 will defend against approximately 94% of UV rays, while SPF 30 will absorb around 97% - so it's not always obvious what you're buying.
The numbers should be used according to the time that will be spent in the sun- so if you're going to be spending only 10 minutes or so outside, your best choice would be SPF 20 to be sun safe. If you're spending the whole day outside, use as high an SPF as possible – SPF 15 won't protect your skin from irreversible damage that eight hours on the beach can cause - unless you're topping up the cream every ten minutes or so.
Skin damage isn't just sunburn
Now we're not trying to nag (we're really not!) but remember that skin damage isn't always visible to the naked eye. Sunburn isn't the first sign of sun damage, but one of the last effects - meaning that the skin has reached the point where it can't take any more.
Stay safe this summer and opt for the highest SPF you can find to protect your skin. It's long been a common myth that a higher SPF will stop you from tanning but you can still be golden (and safe) if you spend all week in SPF 50.
Stay protected
To stay sun safe, wrap up children and babies in loose long sleeved clothing and reapply sun cream often to protect them from a nasty case of sunburn as their skin is much less resilient.
For adults, stick to sitting in the shade when possible, especially during the peak hours of 10am – 4pm, and regularly reapply sun cream. Wear good quality sunglasses to protect your eyes and don't forget to drink lots of water to keep the body hydrated and reduce the risk of developing sunstroke - which occurs when the body can no longer successfully perspire in order to cool our body's temperature down.
Even though sun safety is very important, enjoy the natural lift that sitting in the sunshine can bring. The sun's rays on the skin feed us a dose of vitamin D needed for calcium absorption and feeling happy so it's not all bad. Just be sure to enjoy the summer the safe way and you'll thank us in years to come...