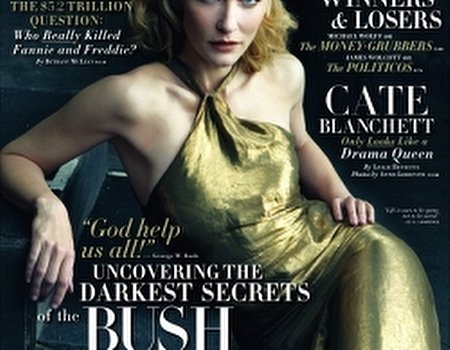 In my first make up master class class I want to talk about pale skin– very pale skin. The best example of Nordic/Celtic skin is the beautiful Cate Blanchett. To have her sitting in front of me with no make up on, is to sit in front of an angel. She is exquisite, partly because of her skin.
Cate is now in Australia all the time, running a theatre group with her husband Andrew and looking after her three wonderful boys, so I flew to Sydney from London, for this beautiful Vanity Fair Cover. It was the beginning of October and even though it was supposed to be their spring it was still raining and cold, like winter!
The photographs were taken by one of the worlds greatest living photographers, Annie Leibovitz. She is known for pulling emotion and intensity out of her subjects and is therefore constantly in demand. This picture was taken in the warehouse of the theatre company, amongst the boxes and the rubble! Such a huge contrast to the way Cate is depicted... Elegant and serene.
How Mary created Cate's look
Her foundation was Chanel Teint Innocence Crème Universel in color '01'
Cate's eye make-up was simply a soft brown and lashings of mascara!
Her lip color is Sillohette by Chanel.
Cheeks very gently contoured with Gerlain bronzer in blond.
Find the right foundation for your skin type
It is important your make up reflects your skin type. It is sometimes hard to find foundations that are pale enough, but it is very important that you do. Many can be too yellow or too pink. Warmth of skin colour can be added with blush and very soft bronzer; do not worry if you look very pale without them. You will. The most important thing, as with all foundation, is that the colour matches your décollete and overall skin tone.
The better the skin the thinner the base. This is true of all skin colour, but even more important with very pale skin. You never want to look like you are wearing foundation. Skin should look 'nude'.
Foundations have come a long way in the last ten years and there is the right one for everyone out there. Cream and liquid foundations are worth splashing out for and Japanese products are really good. They do a lot of whiteners that can be mixed with foundations for extra luminosity. One of my favourite brands is called Suqqu (yes, that is the right spelling!) that can only be found at Selfridges, London, although it is has wide distribution in Japan, for you travellers!  They have wonderful whitening products and I certainly use these on Cate.
Remember, colour, on eyes, lips and cheeks will show up a lot more on pale skin, so a little will go a long way and can look dramatic very quickly. For example black inside and/or around the eyes looks fabulous and very 'goth' with little effort. 
Relish your pale skin and play it up. It is deeply radiant and refreshing in this day and age to see pale skin when most of us are aiming for the perfect tan all year round! For those of you with this skin type, lucky you, enjoy having pale skin!