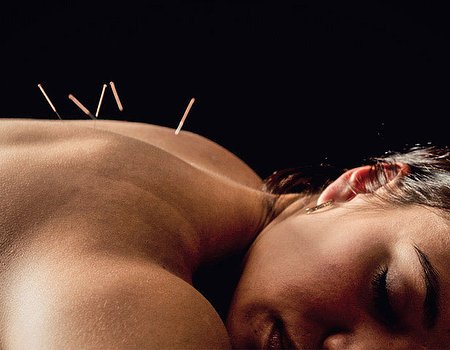 Prickly as it might sound, acupuncture is steadily becoming one of the most popular and talked about ways to relax the mind, body and soul, with a whopping 2.3 million acupuncture treatments carried out each year in the UK. While some of us rave about the life-changing results, a few of us remain suspicious of this ancient practice. To do our bit for Acupuncture Awareness Week, we asked our Account Manager (and acupuncture enthusiast) Meg to tell us about her experience at Seven Heavens in Finsbury Park.
The venue
The Seven Heavens Clinic is located in Finsbury Park's bustling Blackstock Road area, a two-minute walk from the station. It appears quite discreet from the front (as are most hidden gems) and as treatments are by appointment only, you need to ring the buzzer to be let in. Once inside, it's lovely. You walk up some steps and there are two spacious, clean, white treatment rooms. It's a very relaxed and calming atmosphere, and both Faisal and Awais (the brothers who run the clinic) are incredibly friendly and knowledgeable. All the treatments and therapies on offer use a combination of Western scientific theory and traditional Chinese medicine, to provide a holistic programme that can be tailored to suit individuals.
The treatment
I have now been to Seven Heavens for acupuncture a number of times, but I remember being a little nervous before my first session. Luckily, Awais is so calming you instantly trust him implicitly. He's much more than an acupuncturist as he knows about herbal, Eastern and Western medicine and how the various methods of treatment can work together – I've never met anyone like him and I think it's his knowledge that makes Seven Heavens so special.
I really didn't know what to expect from the treatment itself. A lot of people think being poked with needles for an hour will be painful, but it's not at all and – weird as it sounds – it's the most relaxing feeling. At Seven Heavens, depending on your individual needs, they often use cupping as part of the treatment (which I love,) and move on to needles after. The needles used are impossibly thin and you honestly hardly feel a thing. I occasionally experience a bit of a numb sensation in, say, my arm, but nothing remotely unpleasant. Suddenly, there's a wonderful sense of peace and quiet that comes over you. I often fall asleep at this point.
The results
The results are, quite frankly, amazing. I feel so relaxed and happy after a treatment, and the feeling lasts for quite some time after. I've found it really helps during times of stress, and I think this is when most people notice the benefits.
I can't say for sure if it's 'solved' anything just yet, but it's certainly helping and I really enjoy every treatment. At the moment I'm going for treatments at Seven Heavens once or twice a month and I think I will do for the rest of my life. There are a lot of great places for acupuncture out there, but it really is worth spending some time investigating where to go – in fact, part of Acupuncture Awareness week is advising people to choose a therapist accredited by the British Acupuncture Council. I'm not sure I'd be keen to go anywhere else unless Awais personally recommended them, as I really love his Eastern/Western medical approach. In fact, I can't imagine going longer than a couple of months without it now.
Find an acupuncture treatment centre near you.