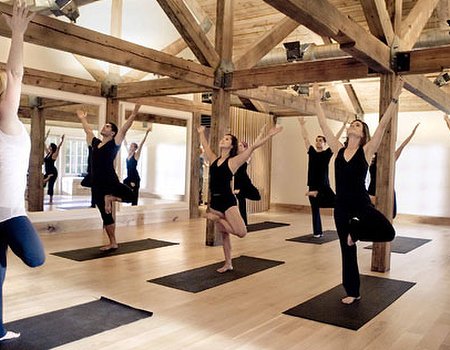 Although Yoga has been honoured as a powerful healing tool for thousands of years, only recently has it received the attention of the scientific community…
• In 1998 The Journal of The American Medical Association described an 8-week yoga program as having positive results for patients with carpal tunnel syndrome.
• In 2005 The Annals of Internal Medicine reported a yoga program had significant benefits for people suffering from chronic back pain.
• A recent study at the University of California used yoga to reduce hot flushes.
• Multiple studies show that yoga helps decrease blood pressure and improve cardiovascular health.
• Two nursing studies published in 2008 showed improvements in sleep, mood (less depression) as well as improved muscle mass, cardiovascular-respiratory functions, and range of motion in senior citizens who participated in a "silver yoga" program.
These studies ignited interest among healthcare professionals and the public since they revealed the potential of therapeutic yoga as a scientifically based healing modality. However, these positive results have brought about a significant problem. Many yoga students believe that it is possible to walk into any yoga class and receive the benefits of therapeutic yoga.
Unfortunately, not all classes are designed to address a person's specific health needs. On occasion, people who attend general group classes see their condition worsen. This could be because there is a crucial difference between the typical yoga class and the specialised field of yoga therapy.
The key to yoga therapy's effectiveness is differentiation. Classes or sessions are tailored to the needs of people with specific conditions: back pain, neck and shoulder tension, heart conditions, sleep problems and more. The postures and practices most beneficial to the condition being treated are chosen, and those that may be risky or detrimental are avoided. In the carpal tunnel research program, postures often found in yoga classes such as downward dog (hips raised high in the air, hands and feet on the floor) were left out in favor of postures with less risk and greater benefit to the wrists. Thus, in order for yoga therapy to be effective, it is necessary to select yoga practices carefully, even modifying or adapting the postures so they become safer.
Most often, yoga therapy is accomplished in small groups or in a one-on-one setting. In an individual session, a short practice can be tailor-made for the client. For example, working with Sarah, a woman with knee pain, poor elimination and nervousness, a short practice of postures was created to strengthen and balance her knees, using certain twists and forward bends to massage the belly and stimulate elimination. Following that, we chose a calming breathing technique to soothe her mind. While the constipation cleared after a few days and did not recur, it took a week or two of practice before her knee felt better. When the nervousness returns — less frequently now than before — Sarah uses her breathing practice to calm herself.
For Marv, who slept fitfully 2-4 hours a night, a CD of simple postures and breathing techniques to use at bedtime was created specifically for him. His nightly sleep increased to seven hours and come morning, he now feels rested.
In choosing a yoga therapist, find one who is knowledgeable about your needs. Certain training programs address only the emotions; whereas others may address structural or physiological conditions, and in some cases, therapists receive training in all three areas. Be wary of classes that group together people with hip, knee, back and shoulder problems. Although you may benefit in some ways, postures that alleviate some of these conditions may aggravate others.
Whether a client chooses a class setting or a personalised session, the key to success in yoga therapy is to feel connected to the healing process. A good therapist will inspire and motivate clients to do a short at-home practice that can be done in 10-15 minutes to help relieve symptoms. The therapist will also help the client take steps to uncover and eliminate factors that may cause or aggravate the problems. This may include avoiding certain postures or changing a daily habit, such as the position of the neck while talking on the phone.
The ultimate goal of yoga therapy is to help individuals facing health challenges at any level by empowering them to take do-able steps that reduce pain and symptoms, balance energy levels, improve attitude and increase overall wellbeing.
Joy, Peace, Light, Kathy