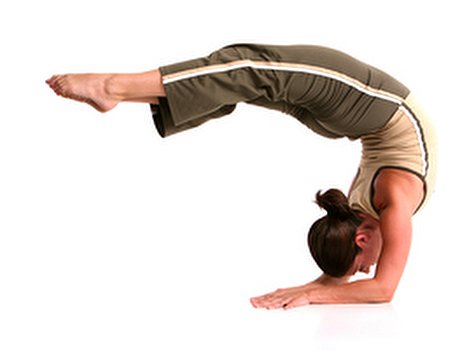 It might sound odd coming from a hypnotherapist, but it's rare that I see I client and don't recommend that they take some form of exercise as part of their life. It's probably obvious for people who want to lose weight, but it's also really effective at helping people who are suffering from stress or depression, can't get pregnant, have low self-esteem, lack confidence and many other things too. Why?
Well, mostly it's because exercise makes you feel good and if you feel good, you'll be more motivated to achieve your goals. Exercise allows you to challenge yourself and find out strengths that you didn't even know you had (ask anyone who's run a half marathon!). And of course it also helps keep you fit and healthy. But you don't need me to tell you that.
It's great if you can make official exercise (sports, gym etc) non-negotiable and important enough to stick to. In addition, it's fantastic if you can also integrate as much movement as possible into your everyday routine and habits.
So, in the spirit of making 2012 an active, healthy and happy year, here are 99 ways to move your body:
1. Ride your bike to work
2. Stand up on the tube/bus
3. Stand up for meetings and when you're typing
4. Use an exercise ball instead of a chair if you need to sit down at a desk
5. Fidget
6. Yoga
7. Knit or crochet when you're watching TV
8. Run - use Hypnogogo, sign up for a race or join a running club to help motivate you. Please do download this free recording if you need help getting started (http://www.hypnogogo.co.uk/promotions/get-up-and-gogo-for-womens.html)
9. Take a walk at lunchtime
10. Love your cleaning...
11. ...and ironing!
12. Dance around the kitchen when you're cooking
13. Pretend you are a donkey and carry passengers (this works best in the park)
14. Walk up escalators
15. Use the ad breaks in TV programmes to do sit ups/crunches - see how many you can do in each commercial break
16. Blow up some balloons and hang them on your fridge
17. Do your Kegel exercises
18. Stretch your whole body when you first wake up
19. Carry your suitcases instead of pulling them along
20. Carry a bottle of water with you and use it to do some bicep curls as you walk or when you're standing on the tube
21. Hulahoop
22. Sing in the shower
23. Go on a treasure hunt (make a list of 10 things and walk until you find them. It helps to make number 10 a pub or a coffee shop!)
24. Play football
25. Take a dog for a walk (and if you don't have your own, borrow one)
26. Body brushing
27. Spring clean as if you have the Queen coming to stay
28. Take an exercise based holiday - yoga retreat, cycling, snowboarding, skiing
29. Aerobics
30. Pick up litter in your neighbourhood, park or favourite beach
31. Play follow the leader
32. Zumba
33. Step
34. Download an audio workout (e.g. 20 minute yoga)
35. Try out an exercise DVD instead of watching EastEnders
36. Have sex
37. Trampoline
38. Jump up and down whenever you are in a queue or waiting for the bus
39. Gymnastics
40. Go swimming
41. Lift weights
42. Put on your favourite song and dance and sing along
43. Skipping (with or without a rope)
44. Frisbee
45. Table tennis
46. Wii fit
47. Cricket
48. Rounders
49. Rowing
50. Basketball
51. Netball
52. Pushups
53. Go to the park and have a sports day - egg and spoon, sack race, three legged race - medals and fruit as prizes
54. Leg lifts (you could do this while watching the tele)
55. Make a game out of any jobs and get the whole family involved (e.g. time yourself to do things faster, pretend that you need to zap the dust aliens with the hoover)
56. Work using a treadmill desk
57. Capoeira
58. Tennis
59. Badminton
60. Squash
61. Wrestling
62. Dancing
63. Golf
64. Mountain biking
65. White water rafting
66. Diving
67. Bowls
68. Ten pin bowling
69. Kayaking or canoeing
70. Trapeze
71. Aqua aerobics
72. Play twister
73. Laugh (watch a funny video, tell some jokes, just laugh for fun!)
74. Spin class
75. Ride a micro scooter instead of taking the bus
76. Gardening
77. Ice skate
78. Run up and down the stairs (in a very tall building if they'll let you in!)
79. Water skiing
80. Belly dancing
81. Tai Chi
82. Tae Kwon Do
83. Karate
84. Play the drums
85. Burlesque
86. Pole dancing
87. Wash the car
88. DIY
89. Pull your stomach muscles in whenever you see the colour red
90. Have a water fight or pillow fight
91. Hire a bouncy castle and bounce!
92. Croquet
93. Do some volunteer work
94. Bake some cup cakes and walk to your local old people's home to deliver them (don't lick the icing)
95. Run through sprinklers
96. Hockey
97. Play tag or stuck in the mud
98. Learn to juggle (balls not life)
99. Join a dance class - ballroom, lindy hop, ballet, jazz
Why not challenge yourself to try at least half of them by the end of the year? Who knows how good that could make you feel!
By the way, if you are starting a new exercise regime please do check with your doctor first.