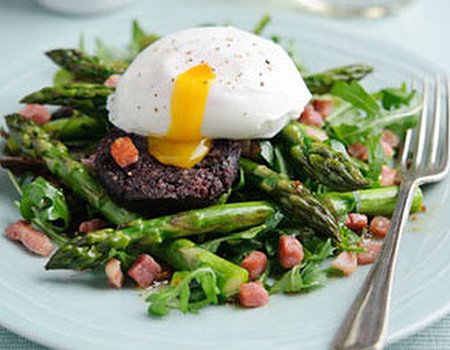 Former Masterchef runner-up Dean Edwards says: "I love this dish! Baked British Asparagus teamed up with the smoky flavours of pancetta and black pudding; add into the mix a perfect poached egg with a runny yolk, what more could you ask for?"
With asparagus season in full swing now thanks to a slight delay due to the great British weather, this is an easy way to eat a delicious meal that's both heartwarming and healthy, and perfect for eating out in the garden on a hot summer's day.
If you're not a fan of black pudding, swap with a slice of ham or smoked fish, or for a vegetarian option replace the meat for some halved new potatoes or crusty bread to mop up the runny egg yolk.
For more mouth-watering asparagus recipes, visit British Asparagus for a full range of meals using these wonderful stems. See you in the queue at the greengrocers...
Baked British Asparagus, pancetta and black pudding salad
Cooking time: 20 minutes
Preparation time: 10 minutes
Serves: 4
You'll need:
100g smoked pancetta
4 pieces black pudding, sliced 1-2cm thick
2 tbsp white wine vinegar
4 medium organic free range eggs
Mixed salad leaves
2 bundles British asparagus
Oil for frying
Salt and pepper for seasoning
Dressing:
1 tbsp sherry or balsamic vinegar
3 tbsp olive oil
1/2 tsp wholegrain mustard
1 tsp honey
What to do:
1. In a little oil fry the smoked pancetta until golden then remove from the pan and drain on some kitchen paper. In the same oil fry the black pudding for 7-8 minutes turning once.
2. Place the asparagus on a tray, drizzle with olive oil and bake in an oven pre heated to 200°c / 180°c fan for 6-8 minutes turning once.
3. Meanwhile, in a deep pan bring some water up to a rolling boil, add the white wine vinegar and crack in the eggs. Turn off the heat and leave to cook for 6-7 minutes for a runny yolk, remove from the water and drain any excess water on some kitchen paper.
4. Whisk up the olive oil, vinegar, mustard and honey and season with a small pinch of salt and a grind of pepper.
5. Place a small handful of salad leaves on a plate along with the asparagus and the black pudding, top with the poached egg, scatter over the pancetta then drizzle over the dressing.