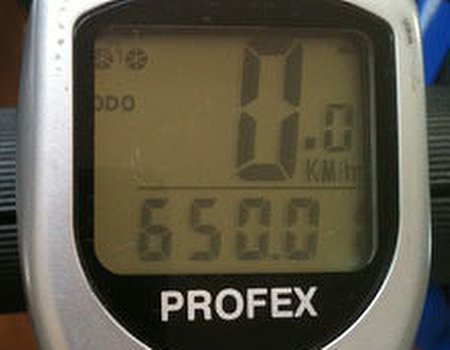 Here we are at the end of the campaign.
Results
Even if my personal target was to maintain my body fat, I managed to reduce it with 1%, although I put on weight (only a bit, but still count as putting on weight). Km-wise ... I'm quite happy to say that I reached my target: I did 650 k with my bike.
Conclusion
As a conclusion of my experience I can say that is not so important to be on a food diet. It is more important what activities are you doing in the meanwhile. But if you want to be on a diet it must be a consequence of your activities. In my case I reduced the amount of alcohol because, let's face it, you can't drink and ride (or not at least in the city where the traffic is how it is). Even if I was cycling in places with worse traffic than London and even I'm really careful, I had some accidents over the time, and I can't image what would happen if I would drink before riding the bike.
Second thing which I noticed was related to my meals especially the amount of proteins in each meal. Also the distribution of meals got changed a bit: breakfast became more important (if I had in plan to cycle 30km in one day, than I would need more "fuel") and for dinner I usually have something light (after cycling few km you really don't want a big meal and for sure your stomach will not enjoy a heavy meal). Also I'm drinking more liquids, I know that this is an obvious thing and all these things you can find them in any recontamination from doctor, but I'm doing them without forcing myself in any way, but as a consequence of cycling.
How was it?
I have to admit that in the last 4 weeks the weather was really nice and I used (almost) every chance I had to have a ride with my bicycle. Maybe, in a different situation, I wouldn't managed to reached my target, although I'm not a big fan of riding my bike when is really sunny. To be honest I prefer to ride it on rain than when is really dry outside and there is a lot of dust in the air.
Since I started using my bike, I had a chance to go/visit places which I wouldn't think or know about before. I really like the freedom which you have with a bike, you don't depend on any bus/tube and their timetable and their delays or if there is any spaces in bus/tube and you can get in or you have to wait for the next one. What is more, you don't depend on traffic. Quite few times when I left the office I notice a huge queue at the tube entrance and every time I was congratulating to myself because I took my bike and if you compare the crowd from Piccadilly with the quiet and piece from Hide Park in the morning then ... you know what to choose.
If I have to describe my experience in few words I would say: less stressful. I will not lie to you. I know that riding the bike is not "a walk in park", and in the middle of the traffic can be stressful and if you are comparing that with reading your book in tube while you are seating,... but let's face it: how many times you had a chance to seat down in the tube at rush hour? In my cases, this happened in less than 5% of all the cases. And as a conclusion I would recommend cycling to reduce the stress, because who doesn't want to start a day stress-free or if you had a bad day at work, 35-45 minutes on the bike will make you forget about everything and once you got at home (and you had a shower) you can enjoy the evening.
Advice
I'm really not entitle to give any advises. I don't have any training to do so, but I will do some recommendation. If you want to do any sport, then do it where you are allowed and think twice about your safety. In my case, I always have with me my helmet, gloves, glasses, front and back lights and reflective backpack cover because I realised, on my own, that it is for my safety.