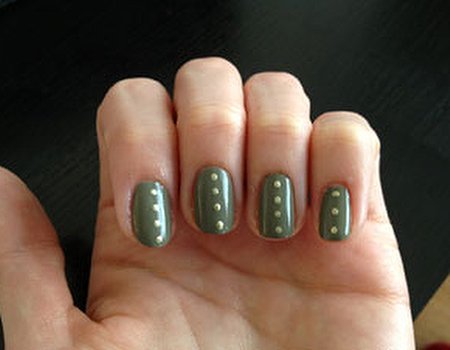 Now that spring is here, the gloves are off – quite literally. It's no wonder, then, that we've been obsessing over our nails this week. From Leighton Denny's top tips on how to work the latest trends, to our feature on DIY nail art and of course our manicure and pedicure Pinterest board, we've got plenty of inspiration to help you spruce up your fingers and toes. And what better way to round off a great week than with a look at some fantastic nail blogs?
Dedicated to trying out trends, creating new designs and talking readers through different looks, nail bloggers are the key to transforming your talons. Want an inexpensive but fashionable way to revamp your look this spring? Follow a few nail blogs to get an idea of your favourite styles, and you'll be all set to wow this season. Here are a few of the Wahanda team's favourites:
Brit Nails
For plenty of swatches, interspersed with tutorials and handy tips, look no further than Brit Nails (www.britnails.co.uk). Run by the lovely Allie (whose lovely deep nail beds we're very jealous of!) the blog is updated regularly and definitely worth bookmarking if you're a fan of pretty polishes. We're currently drooling over the China Glaze matte gunmetal shade in Allie's most recent post.
Talonted
There's no denying it – Lex over at Talonted (www.talonted.tumblr.com) well deserves her blog's name. As well as swatching a variety of on-trend shades, Lex is a master of original and eye-catching nail art. We can't get enough of her dreamy galaxy-inspired nails and fun pop art – but it's her pastel gradients and bright leopard prints that have really stolen our hearts this spring.
The PolishAholic
The tagline of The PolishAholic blog (www.polishaholic.com ) is 'rehab won't help this addiction' – and we think it sums up Jen's approach perfectly. Her blog is packed full with different colours, finishes and styles, all beautifully photographed. Our particular favourites are Jen's posts on hologram effect polish and spring pastels, but don't worry if neither of these are your cup of tea – there are so many looks to choose from that there really is something to suit everyone.
Nailside
A fabulous mix of tutorials and swatches, Nailside (www.nailside.blogspot.com) is a treasure trove of fun yet wearable looks. Blogger Jane's step by step tutorials are clearly laid out, helping even nail novices to get the hang of it. Make sure you check out the Miffy manicure tutorial in particular – we think it might just be the cutest design we've ever seen. And we've seen a lot of nails in our time...
Colorful Nails
Last but not least, we couldn't write a post on nail bloggers without directing you to Colorful Nails (www.colorful-nails.tumblr.com). Run by Wahanda's very own site designer Marisa, the blog provides the lowdown on popular brands, all presented with a unique twist. We love the way that Marisa takes inspiration from her everyday life - her Downton Abbey inspired mani (pictured) and the look she designed to match her iPhone case are two of our favourites.
Can't get enough of nifty nail art and pretty polishes? These are just a few fabulous blogs to get you started – head to Twitter for a longer list of nail bloggers and YouTubers who are definitely worth a follow.
Image courtesy of Marisa at www.colorful-nails.tumblr.com.