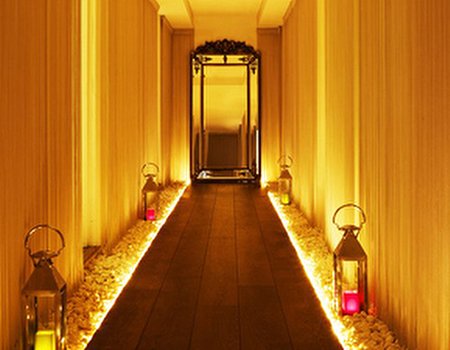 As all you faithful sons, daughters and hard-working mothers are probably aware, this Sunday is Mother's Day. The fourth Sunday in Lent when devoted children everywhere stop and think about everything their mother's do for them and say thank you with a bunch of daffs and a home-made card.
As we've got older here at Wahanda, we've come to realise just how hard many mothers work and it's dawned on us that a thank you card – no matter how long you've spent decorating it - doesn't quite cut it. This year we've decided to say thank you by spoiling our mums rotten with a day of pampering fit for a queen at Adamina Spa of Kensington. If you're stuck for what to get the special lady in your life read on for a little indulgent inspiration…
Venue
Known these days as one of the best places to relax in west London, Adamina Spa on Kensington High Street was once upon a time a bank – which explains the large, sturdy doors that mark its entrance. Once used for security, these doors now work to block out the hustle and bustle of the busy capital, making Adamina the peaceful, elegant haven that locals know and love.
The spa specialises in [Comfort Zone] treatments, offering a range of contemporary and highly effective treatments such as massage, facials, body wraps, scrubs and cellulite reduction. All treatments are performed by a team of well trained and experienced spa therapists thoroughly committed to delivering the kind of first class service you would expect from a luxury venue like this.
Treatments and facilities
If you haven't come across [comfort zone] treatments before you're in for a treat. If you're wondering about the brackets, they represent two hands gently protecting and treating the skin, which is what the brand specialises in. The [comfort zone] treatments available at Adamina are 'sensory journeys' which use the brand's range of skin, body and hair products to 'delight the senses' while treating a range of skin and body concerns, resulting in immediate and lasting results.
As well as sensory journeys, visitors to Adamina will also find on the treatment menu the highest standard in waxing, IPL, Essie and Artistic Gel manicures and pedicures, and brow and lash treatments.
But right now, the treatment we're most interested in is the Mother's Day Spa Package. Offering lucky mums a 60 minute prescriptive massage (which focuses on muscular tension and stress, whilst resting mind, body and soul), the choice of one targeted facial treatment, full use of the steam and relaxation rooms and complimentary fruit as well as a glass of Prosecco or cup of tea, it's a great way to show her how much you love her.
Treat yourself (or your mum)
If you're looking for a truly special way to say 'thanks mum' this year then take a look at Adamina Spa of Kensington's page and book her a Mother's Day surprise she'll love. Mum's the word until Sunday…