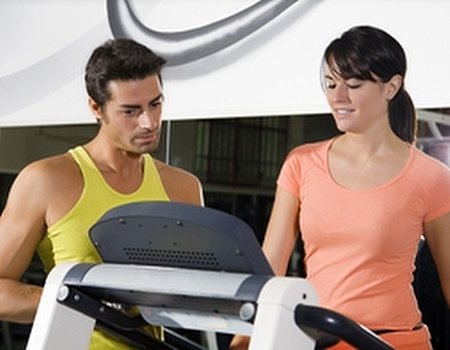 There's been a tiff over middle-squeezing of the toothpaste and a nag about clothes that fail to reach the wash basket. The stony silence is only broken by the 'should the seat stay up or down?' argument erupting with your partner for the millionth time.
If petty arguments and minor rumbles are keeping you stuck in a relationship rut, there's another alternative to that fancy French restaurant you've booked. Clichéd candlelit dinners and glasses of bubbly are so 2009 - this year it's all about donning your trainers and trackies and sharing a sports drink or two.
Experts from the new Women's Running magazine claim that couples who work out together are happier, more likely to reach their fitness goals, and enjoy a better love life. It's claimed that the physical benefits of going out for that jog are good for your relationship, as it will improve your fitness, body shape and energy levels which can only have a positive effect between the sheets. Running offers a great stress release, so you'll be exercising away your irritations instead of taking them out on your partner.
Pounding the pavement can help you overcome a rocky patch as it gives you something to talk about and a reason to spend time together. Women's Running's Life Coach and runner Julia Armstrong believes that a shared interest like running helps you connect more deeply after the first flurry of the romantic 'in love' stage has faded, and may provide the common ground on which to build something lasting.
You're much more likely to put down the tortilla chips and drag yourself from that soap omnibus if you've got your partner as a running buddy. When one of you is feeling tired or lacking in enthusiasm for exercise, you've got your own personal motivator to spur you into action and are therefore more likely to achieve success. Fancy giving it a go? Why not take the first leap with one of our free fitness deals and see if working out works out for you.
If working up a sweat to improve your relationship doesn't tickle your fancy and your partner reacts to exercise as if it were a swear word, you can always try booking a spa deal. Much more original than petrol-garage flowers and sure to be better received than a box of chocolates, a pampering session is certain to notch up a few brownie points with your partner. For the lovely lady in your life, treat her to a nourishing facial or for that handsome man, a knot-relieving massage. You could always try some couple bonding and enjoy a 2 for 1 spa day experience both of you can enjoy.