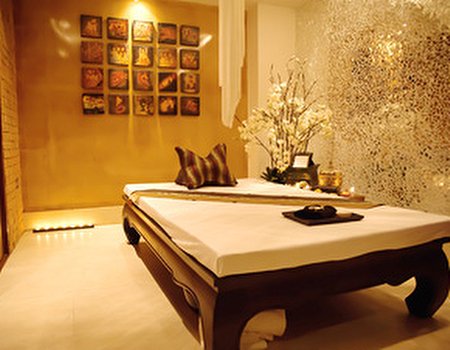 I confess … I love a massage. I love a massage to relax me, to rejuvenate me, to relieve tired muscles, and I love a massage 'just because'. I also love discovering hidden gems, and being able to tell my friends where to find London's best treatments, so when I heard that Thai Square Spa have opened a new City venue, as an addition to their Covent Garden location, I didn't take much persuasion to head down there.
The spa
Situated just a couple of minutes from Aldgate tube, Thai Square Spa Cityis in a great spot for busy City types. The Spa claims to offer 'a touch of Thailand' so I was intrigued to see whether this venue is all about the décor and ambience, or whether they were referring to the quality of the treatment. In my experience Thai massages vary massively in quality, and some of the best I've had haven't been from 'luxury' venues but from smaller venues focusing more on the authenticity and quality of the treatment.
After completing my health questionnaire, I was ushered straight down into the Spa to prepare for my treatment: the Ritual Massage. The Spa scored top points from me on attention to detail. I changed into the soft and lightweight robe and slippers waiting for me, and locked my things away securely before being taken into my treatment room (I had the very spacious Couples' Room to myself). The décor was lovely; distinctive brick walls, soft drapes on the ceiling, relaxing music and flowers on the floor.  If I could pick a tiny bone, it would be that I could hear the conversation from the next-door treatment room, which was a little distracting at first. That said, the gentleman did seem to be talking especially loudly, so I think I was just a bit unlucky, and imagine that usually you wouldn't be able to hear your neighbour's life story!
The treatment
I opted for the Ritual Massage, which began with a foot soak to refresh and relax. I was left alone for a few minutes to unwind, with a delicious herbal tea. Once my feet were dried I was settled onto the heated bed (always a point scorer for me) and gently rubbed down with warm cloths, which was a nice touch as I felt cleansed before the massage began. The massage was great. My Therapist checked the pressure with me on a few occasions, but in the main just used her intuition to read where I needed most focus, and she read my body well. I have regular massages and like different pressure depending how I'm feeling. Had I been looking for a really firm massage to soothe my muscles I would have had to ask for more pressure, as she used a medium pressure throughout, but this was just right for a lunchtime treat. It felt therapeutic yet relaxing - leaving me on the brink of drifting off - and finished with a soothing face massage, which I loved.
The result
I left Thai Square Spa feeling refreshed and relaxed with a spring in my step. If lived or worked in closer proximity, it would certainly be a contender venue for my regular monthly massage. I think the venue has done really well to combine the best qualities of high end Spas (quality décor, calming ambience and friendly professionalism) and treatment-focused massage centres (authenticity and quality of the treatment) to offer a great quality Spa experience.