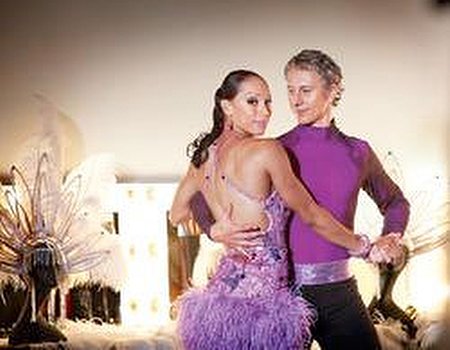 Want to get fit and have fun at the same time? Take a master class in ballroom dancing, says Louise Pyne.
Whether you're lusting after a loose-limbed body or want a fun route to fitness, a hip-swaying dose of ballroom dancing is perfect. It's claimed that dancing three to four times a week will change your bodyshape and improve your health. Plus, with added bonuses of boosting coordination, balance, flexibility and strength, it's got to be worth a shot, right? With that in mind, we decided to hotfoot it over to our local Fitness First gym to try its recently launched Strictly FIT class (open to both members and non-members nationwide), to see what all the fuss was about!
Based on a dizzying range of ballroom-dance styles performed to music from the hit show Strictly Come Dancing, we were really looking forward to this class and trying something a bit different! However, what we really wanted to know was whether ballroom dancing was just another overrated fitness trend, or could 60 minutes getting our groove on effectively help us trim and tone our way to a super-svelte figure?
What to expect
We arrived ready to vigorously sashay, wriggle and twirl our bodies to the most popular Latin beats. First up, our energetic and smiley teacher Paulina, a ballroom pro, told us that our first dancing task would be to give the waltz a whirl. 'Left leg back, right leg to the side, right leg forward…' she commanded. A great way to gently ease yourself into ballroom dancing, the slow-paced waltz is known for its simple box-step sequence combined with smooth rising and falling actions. Once we had mastered the basic moves and perfected our posture (vital in any form of ballroom dancing), we grabbed a partner to practise the steps, which surprisingly proved relatively easy for the novice dancers among us!
Having become quietly confident, we then felt ready for something a little more upbeat, so Paulina suggested the challenging cha-cha-cha. A carefree and lively dance, it consists of three quick steps (known as a triple step or cha-cha-cha) and two slower steps on the one beat and two beat. After just a few minutes we discovered that fine-tuning the fancy footwork to the blaring Latin beats gets your heart rate racing and makes for endless amounts of fun!
Hip moves
Once we had grasped the initial dance format, it was time to add some hip action! Paulina told us to roll our hips to the music while simultaneously performing the moves. The key is to swivel the hips from side-to-side in one smooth figure-of-eight action, but this proved easier said than done!
Once we'd got the hang of the cha-cha-cha, we shimmied our bodies to some seriously sexy salsa moves. Again, it's all about the hip action – writhing and wriggling your waist to upbeat rhythms. Providing giggles all round as we attempted to follow Paulina's effortless technique, it's easy to see why the sassy sashaying and shaking moves have become something of a dance phenomenon with both young and old.
Yearning for even more up-tempo action, next we leapt our way around the room to the jive. One of the universally loved dance styles, the jive is a cross between '50s-style rock 'n' roll with a few Latin moves thrown in for good measure. It's fun, liberating and unbelievably energetic. With kicks, flicks and twirls, it's the fastest of all the Latin dances and possibly the most enjoyable, too! Along with the simple moves, we learnt the famous 'New York' spin, knee lifts and bends, all the time rotating our hips in time with the rhythm of the music.
We ended the class with the quickstep – gliding from one corner of the room to the other sliding our feet from left to right, back and forward. We discovered that there's much more to ballroom dancing than simply learning the steps. It takes coordination, concentration and a willingness to leave your inhibitions behind you as you enter the class.
The verdict
While you don't really work up a sweat learning the basic techniques, when you're able to really master the movements and add some speed, Strictly FIT makes for a brilliant calorie-burning workout.
Essential info Fitness First currently offers five 60-minute sessions of Strictly FIT for £25 for non-members. Classes are free to members. For more information, visit www.fitnessfirst.co.uk/strictly