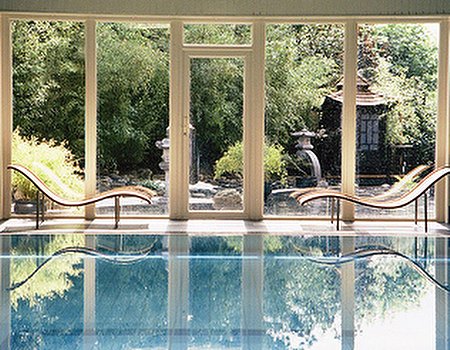 Busy? Yeah, me too.
If you're often overwhelmed with work or lifestyle pressures, tend to become overly annoyed at the little things, or you find daily demands and your work-time encroaching on your me-time (or if you're even thinking, 'me-time, what's that?'), this course is for you.
Recommended to anyone who will benefit from a healthier work/life balance (and those who wouldn't too), Excelling under Pressure, administered by the Stress Management Society, is a half-day seminar focused on stress recognition and management held at SenSpa in Hampshire.
We were invited to revisit Careys Manor's sumptuous SenSpa, a lush Thai spa in the New Forest, for their stress management programme aimed at high-calibre professionals. They offer a three hour seminar with a stress management expert, two course Thai lunch, full use of the spa facilities until their 9pm closure and a one hour massage or facial.
Most of us don't realise we are stressed out all of the time or that many of our chosen 'tension relievers' are anything but. The seminar gives you the knowledge you need to recognise the tell tale symptoms of stress, and how to apply the knowledge to your life. The Stress Management Society is a non-profit company dedicated to helping people tackle stress, and is one of the UK's leading authorities on recognising and managing stress. They provide a refresher session in identifying stress symptoms and review what happens to your body when you're freaking out, as well as offering approaches to reducing stress, improving energy levels, and achieving a fulfilling work/life balance.
The first part of the seminar focuses on identifying the symptoms and common causes of stress. The theory is our bodies' responses to stress are still pretty prehistoric; the 'fight or flight' response which helped our ancestors escape from woolly mammoths served them well for survival, but when today's commute or tomorrow's deadline creates the same response in us, the same hormones are released and the body's responses to cope with the stress are pretty useless, sometimes even harmful. The Society help you to define your own personal triggers and approaches you can use to diffuse your feelings of tension.
The second part of the seminar focuses on application to your life. Not only is it pointed out that the top things one tends to reach for when stressed out (cough cough) – caffeine, alcohol, cigarettes, sugary foods – actually 'fuel the fire' but that one needs to remember life has to be tackled at a sustainable pace – to treat it as a marathon not a sprint. We learned approaches using breathing to help diffuse building tension and visualisation techniques to assist focus before taking on big tasks. We were advised on stress relief self help, including desk massage and desk yoga, which you can do without looking odd.
The seminar was followed by lunch taken in the Zen Garden restaurant, serving yummy Thai cuisine; then we were turned loose to enjoy full use of the spa facilities until their 9pm closure. The day also includes a scheduled one-hour massage or facial, which is the ultimate application of stress-relieving techniques.
A week on, although the benefits of the massage have worn off, I still find myself using some of the stress relief techniques during my work-day. The programme is aimed at corporate clients, but individuals are equally as welcome. A one-day seminar including lunch, a one-hour spa treatment and full use of spa facilities is priced at £299 plus VAT.
Top Tip: Most SenSpa masseurs trained in Thailand, so opt for their traditional Thai massage if it is available.