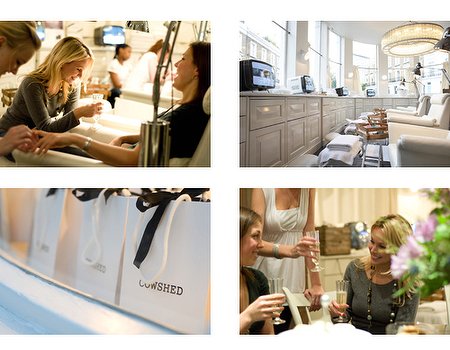 Everyone needs some pampering every once in a while and WhereAndNow have found the perfect little day spa for you to head down for that all important manicure before the big day.
Cowshed Clarendon Cross might not sound like it should be nestled in the streets of Holland Park but it's an ideal rural retreat in the City. The spa at Cowshed manages to exude a cosy, elegant farmhouse atmosphere, with whitewashed walls and a big farmhouse kitchen table in the middle of the room where you can help yourself to some of the fresh fruit or indulge in lunch before or after your treatments. I would refrain from lunch however, as although the concept is good I am not the biggest fan of sitting down ready to eat some good food whilst someone has a pedicure a few feet (excuse the pun) away from me.
Cowshed offers a full range of treatments from Speedy Manis and Pedis, for a quick file, tidy and polish to advanced facials using SkinCeuticals products, which cater for a variety of specific skin problems whether dry, irritated, ageing, congested or just in need of a bit of extra care.
I was in desperate need to some TLC on arrival so when walking down the stairs to the treatment room I was grateful for a calm and relaxed ambience; beautiful candles omit a wonderful scent that relaxes your muscles. Needless to say, I decided to stock up on these magical candles upon my departure. For my facial the therapist had the gentlest hands in the world, every stroke was perfect and instead of having idle chitter chatter, she was content with her work as I was just being able to be there.
I felt like being a bit greedy that day so decided to indulge in a Hot Stone Massage so I could achieve full body relaxation. Cowsheds Hot Stone Massage uses volcanic basalt stones which are bathed in warm water and used to massage the body using traditional techniques that ease tension and pain. And boy did it work! I struggled to move from my massage bed afterwards as my body was relieved of so much tension that I didn't want the tingling sensations to end.
Cowshed offers an exclusive range of treatments specially formulated for expectant or new mothers: the Udderly Gorgeous Leg Treatment revives tired feet and legs with exfoliation, massage and a foot soak.
I have to admit to being converted to Cowshed's very own cheekily named, natural therapeutic bath and home. Cowsheds have also recently launched maternity and baby collections which make for the perfect presents. The Dirty Cow body wash for ladies and Bullocks body wash for men are heavenly and if you feel like a romantic evening in, you can't go wrong with the Horny Cow bath and massge oil; now this is my kind of farmyard!
Opening hours Mon-Fri 9.00 - 20.00 (Treatments) Mon-Fri 8.30 - 20.00 (Café) Saturday 9.00 - 19.00 Sunday 10.00 - 17.00