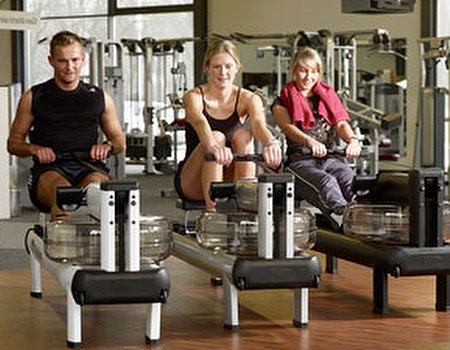 That January detox may feel like it was nothing but a bad dream already, but Wahanda try to keep fit and fabulous all year round. But what to do when you're bored of running, avoiding the loneliness of the gym or completely unmotivated to get those muscles moving? Find a new fitness toy to play with, that's what. Wahanda bounded over to Trinity Health Clubs last week to check out the new class in town – WaterCrew – and we were pleased to find we weren't out of our depth…
The venue
Trinity Health Clubs are quietly hidden away in a basement location in Central London. Their compact studios are currently enjoying a refurb which is making them lighter and brighter, with a smart reception area already giving the place a welcoming feel. A very intimate club, Trinity focus on personal training and smaller classes in order to get results – which is exactly what you need if you're lacking in the motivational department. WaterCrew is their latest venture, using WaterRowers to create a group fitness class that imitates real-life rowing.
The class
After a swift change into our rather neglected gym clothes, we set ourselves up on the rowing machines, along with the other four people in the group. The machines are a little different to those very mechanical rowing machines you find in the gym – WaterRowers use 'Waterflywheel technology', making it a lower impact class that mimics the feeling of being on the water. The circular tank of water provides all the resistance you'll need to give yourself a full cardio workout.
The 45 minute class begins with a warm up of gently rowing back and forth; the swoosh of the water as we pulled on the bar was oddly relaxing as we began to get the blood pumping, and the statistics on the counters were explained to us as we rowed. Gradually, we increased speed – but as our knowledgable instructor pointed out, speed is not the object in WaterCrew – it's about how much strength you put into the movement.
With perfect high-tempo music blaring behind us, we rowed in unison, using various techniques to work the whole body. With twists to work the abs, 'sprints' to challenge the legs and bicep curls to work the arms, WaterCrew ensures you work 84% of the body's muscles. It even beats the treadmill, bike or cross-trainer to be the best form of cardiovascular workout, with a session of light to moderate rowing burning between 502-733 calories per hour; a vigorous training session will burn up to 1,035 calories per hour – now that's a lot of Easter eggs!
The result
In just 45 minutes of moderate rowing, we were up to a rate of burning 749 calories an hour and counting, and had rowed a distance of around 8km. Unlike spinning classes which are high impact and high speed, WaterCrew is fun and energetic yet without that I'm-going-to-fall-off-the-bike feeling. With great music, great instructors and that great calming water sound, it's easy to keep going, especially with such a dynamic routine that never gets dull.
WaterCrew classes are ideal if, like those of us at Wahanda HQ, you love the rowing machine but find it pulls on your muscles just a little too harshly or you just can't keep going for more than five minutes out of sheer boredom. WaterCrew makes for an invigorating class that definitely floats Wahanda's boat….