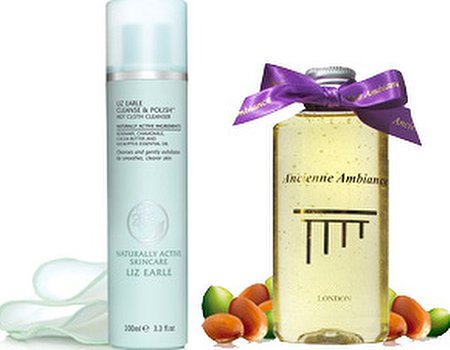 It's safe to say we're pretty into our health and beauty here at Wahanda HQ. Innocently ask the question 'What's your favourite beauty product?' in earshot of any of the team and you'll spark a long debate over whether to pick from skincare or cosmetics, something you can't live without or something new that you swear by. Then there's the choice of brands - do we go with a trusted spa brand like Elemis or the iconic YSL? It's a question that is near impossible to answer.
Well, that's exactly what we did - after much pressing and pondering, the Wahanda team finally gave their definitive answers on the beauty products they love. So without further ado, read on for the product heroes that made it into the Wahanda beauty hall of fame…
Liz Earle Cleanse and Polish Hot Cloth Cleanser - Faye, Regional Account Manager
"I've recently switched to using Liz Earle Cleanse and Polish Hot Cloth Cleanser and their Skin Repair moisturiser (getting into my early 30s now, so my skincare regime had to be looked at to keep the wrinkles at bay!) and absolutely love it. It's got rosemary and chamomile in so makes your skin feel really fresh." Liz Earle Cleanse & Polish, from £8.25
Ancienne Ambiance Goddess Body Oil - Hannah, Account Manager Product/Buyer
"I would recommend Ancienne Ambiance Goddess Body Oil. It's fantastic as a body moisturiser and works very well as an after sun, as it prevents skin peeling." Ancienne Ambiance Goddess Body Oil, £30
Pukka Ayurveda Gentle Cleanser - Hannah, Marketing & Events Manager
"I'd say all of Pukka skin products, but particularly their Ayurveda Gentle Cleanser - the Organic Rosewater & Green Tea Skin Purifying Formula. Since using it my skin has been clear and glowing and looks completely refreshed all the time, and I get loads of comments from people asking what I use." Pukka Ayurveda Gentle Cleanser, £11
Creme de la Mer Moisturising Gel - Madeleine, Head of London Sales
"It's really light – I have oily skin and can't tolerate really creamy or heavy products. This sinks in well and makes your skin feel really soft and smooth. Expensive, but I hardly need to use any so it does last ages!" Creme de la Mer, from £95
MaxFactor Masterpiece Max - Judy, Site Editor
"It took me years to find this mascara but now that I've discovered it it's safe to say I'll never swap. MaxFactor are a great brand and this mascara gives both volume and length without getting clogged up - I love that it doesn't take too many sweeps to coat the lashes as it's quite a 'wet' formula. It lasts a good few months and I sometimes top it up with their False Lash Effect for extra on the tips." MaxFactor Masterpiece Max, £9.99
Seche Rebuild - Alison, Freelance Writer
"Hours of typing combined with acetone-driven indecisiveness (the shades are all so pretty!) means that by the end of the month, my nails can easily end up weakened, battered and broken. So far, the only thing that's helped them withstand my punishing regime is Seche Rebuild. Its protein-packed formula manages to prevent my tips flaking and tearing by apparently binding the layers of the nail together. All I know is once I get into the routine of applying it regularly (on its own or as a basecoat), my hands stay presentable for longer and my nails feel noticeably stronger too." Seche Rebuild, from £11.99
Moroccan Oil Treatment Original - Micaela, Copywriter
"It's really helped my hair in terms of strength, condition and growth. My hair had always got to a certain stage where it seemed to refuse to grow any more until I began using this product. The growth has been gradual but it has been of an overall better quality. My hair is dip-dyed so it is hit with colour at the top and bleach at the bottom. A few drops of this rubbed through wet hair after washing every evening has managed to keep from becoming a matted and dry mess." Moroccan Oil Treatment, from £9
Bumble and Bumble Cool Brunette Shampoo - Elly, Senior Marketing Manager
"This product is great if you have dark, coloured hair. Mine tends to get a bit of an orange hue to it when I use dye, but by using this blue shampoo it keeps it toned down to a nice and cool shade. It leaves it in great condition too." Bumble and Bumble Cool Brunette Shampoo, from £12.03
St Tropez Powder Bronzer - Becca, Community Evangelist
"As a self-confessed tan lover, it's taken forever to find that perfect shade of bronzer that gives a super-natural glow. The St Tropez bronzing compact comes with a handy little mirror on the inside and gives a rich, deep, tanned colour that makes you look more two-week-holiday than TOWIE. Swept over the cheeks, forehead and nose, this shine-banisher peps up my year-round pale skin and contains no shimmer or glimmer like other products. Perfect for swiping over the face, body and décolletage for a night out, this compact really does last forever – I've had mine since the beginning of the year and use it every day, yet there's still lots left!" St Tropez Powder Bronzer, from £17.35
Elemis Frangipani Monoi Body Oil - Isabelle, Marketing Director
"This really is the best body oil ever. It smells amazing and can be used on hair, skin and nails to leave them super soft - it's my real go-to indulgence product." Elemis Frangipani Monoi Body Oil, from £29.70
What's your favourite beauty product? Let us know over on Twitter!