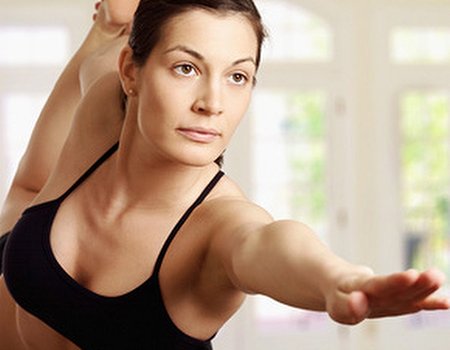 Ladies, this one is for you. Whether you're a marathon runner, a zumba fanatic, rock climber or even a power walker, you need to protect your assets. No matter how intense your exercise regime, a sports bra is the most essential piece of kit - yet thousands of women are still slacking when it comes to wearing the right support.
Sweatshop, the sports retailer and running specialists, conducted a survey earlier this year that revealed 57% of women do not regularly wear a specific sports bra when exercising. The surprising figure was baffling given that 70% of women in the study admitted to knowing that a well-fitting bra would prevent breast sag and pain, which were their top two concerns - and a quarter of those asked admitted that they were currently wearing one which didn't fit them properly.
With one in ten owning up to not knowing what size they are and one third revealing that they've never even been measured, Sweatshop's specialists just had to step in and sort the ladies out. We tried and tested their brand new sports bra fitting service in their latest London store to find our more…
The venue
Sweatshop's new location is in the heart of Soho and is exactly as a sports shop should be - full of an impressive range of sports wear and friendly staff who want to help. Their 39th store, Sweatshop are well known in the running community for their expertise, with great brands such as Nike and Asics on sale plus their award-winning gait analysis footwear fitting service catching the attention of fitness fanatics nationwide.
Now, with the help of Dr Joanna Scurr and her fellow researchers in the breast health unit at the University of Portsmouth, Sweatshop have branched out to offer a much-needed sports bra fitting service. Exercise junkies can pop in, have a free consultation with their advisors and come away with a sports bra that suits their shape, needs and style.
Amanda Brasher, Head Sports Bra Buyer for Sweatshop, says: "If you take part in physical activity it is vital to wear a well fitting sports bra. 40 per cent of women polled experienced breast pain, yet research shows that a supportive sports bra can do more to eliminate this in the long term than painkillers. It is staggering that the majority of British women do not wear a sports bra when exercising"
The treatment
Sweatshop's survey results indicated that women need educating on the importance of keeping their assets in good shape, to avoid potential tissue damage, sagging and pain - so with their new 'bra bar' and expert bra fitters ready to go, the retailer is now schooling the nation.
Women clearly put off being fitted for a bra, but it's nothing to fret about - all the bra fitters at Sweatshop are women, and are perfectly discreet when seeing how you measure up. After giving a rough guide of the size I wear, the expert gave me a couple of options to try in the cubicle. Once on, she came in to see how well they fit, explained why the sizing was right or wrong, and gave another size to try. It turned out I had been wearing the wrong size - much like the majority of women in the UK - so once it was decided I was then given some style options. It was quick, embarrassment-free and educational - and I couldn't believe I hadn't thought to do it sooner.
The result
As a zumba-goer, Power Plate addict and wannabe runner, I went for a Panache underwired sports bra which can be worn either normally or as a halterneck for extra support - and I couldn't believe how much better it felt. Every sports bra I had worn before was tight, uncomfortable, and let's face it, ugly - yet this encapsulating style did the job while feeling right.
No matter what your cup size or what you do to keep fit - from Pilates to running and everything in between - an expert fitting should be on your to-do list before you even put those trainers on. Dr Joanna Scurr's team have found that breasts move on average 10cms in three directions when exercising - so if you want to stay fit and perky, good support is a must-have. Plus, there's no excuse not to - Sweatshop have launched the service nationwide so that women who want to keep fit can be fitted and kitted out in a flash…
To find a Sweatshop store near you, visit their website - we highly recommend you give it a go.