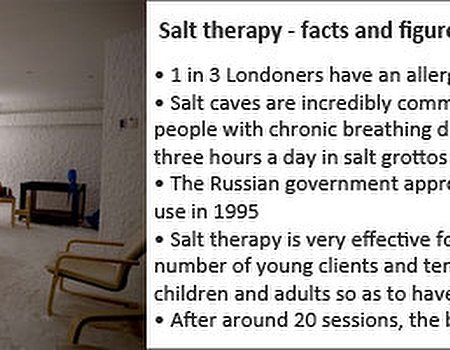 We're told to keep our salt intake to a minimum to keep hearts happy and healthy, but inhaling it can actually be good for you - halotherapy, or salt therapy is helpful particularly if you suffer from asthma, bronchitis or sinusitis. Ever the enthusiast for a natural remedy, Wahanda headed down to the UK's first ever Salt Cave to find out why passing the salt could be the next big thing.
The venue
The Salt Cave is set within a one-hundred year old converted church in Wandsworth, just a stone's throw away from the local station. With a friendly yet suitably clinical interior, a small and welcoming reception area leads through to a locker room where we can de-coat ourselves away from snow-encrusted London and put on the highly attractive (!) hair nets and shoe covers.
Hungarian-born Sofia, owner of the Salt Cave explains these are to keep the treatment environment hygienic in line with the conditions of the room – a natural salt cave micro-climate is recreated within the clinic. Particles of dry rock salt are ground in a machine and circulated around the chamber, which, though invisible to the eye, are inhaled deep into the respiratory system. The minerals within the salt, including magnesium and potassium have anti-inflammatory properties, while the salt's natural antibacterial properties help clean out mucus to help reduce blocked airways. As long sufferers of hayfever and the usual coughs and colds, it was certainly worth a try.
The treatment
As we entered the cave, our eyes had to adjust as we were met with a room resembling a snow covered chamber – only of course the 'snow' was salt. Covering the walls, ceiling and floor was a thick layer of natural sea salt which we later heard was from the Red Sea. The sparkling spotlights were dimmed to help create a relaxing atmosphere as wave music played softly in the background, and a few 'patients' were already in the session – Sofia has treated over 1000 clients this year and is booking up fast.
Choosing conservatory-like loungers set at the back of the room, we settled down under a cosy blanket, keeping snug in the 20 degrees room and drifting into a pleasant snooze. Each session lasts an hour, so whether you're reading a book, taking a nap or (if you're a child) playing in the kids' toy area it's a serene setting for some well-deserved rest away from the bustle of the city.
The result
It's not often you can kick back and relax with a nap in the afternoon, so it's no surprise that halotherapy can alleviate stress and improve well-being. To really feel the results Sofia recommends a few treatments per week – but after just a short time in the cave, our blocked noses (courtesy of the winter cold and flu season) felt clearer, and we already felt a lot calmer. You may well think you can relax at home, or of course at a spa, but the cave offers a distraction-free haven as well as beautiful clean air to clear the lungs away from polluted London - and for any asthmatics or severe allergy sufferers it's a natural way to improve your breathing. What's not to love?