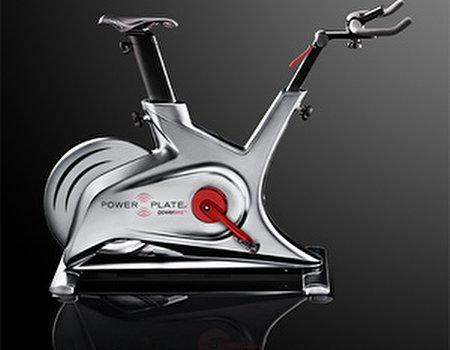 Being a time-strapped Londoner and forever struggling to fit fitness into my routine, Power Plates are something I've loved since discovering them a few years ago. I now visit Fitness for Every Body weekly for my fix but am always looking for new cardio activities to try - so was very excited to hear about the brand new product from the tech whizzes over at Power Plate HQ: the PowerBIKE. I hotfooted it over there to check out the new phenomenon…
The concept
Part Power Plate, part exercise bike – yes, the PowerBIKE is every bit as tough as it sounds. The stationary bike doesn't look too different from your usual spinning class contraption, but I soon find out looks can be deceiving. Within the wheels is the brand new 'pedal and crank' technology, so that once you switch on the power your cycling produces a mechanical vibration that causes muscles to work even harder. This is the same technology as the Power Plate; vibrations transfer throughout the body, making muscles respond multiple times per second and therefore giving them a tougher workout in a shorter amount of time.
Whereas with spinning you would probably do around an hour's class, with the PowerBIKE your muscles work so hard that even the fittest pro will probably need to switch between the normal bike and the vibrating version, for intervals of just a few minutes at a time, building up to around 30 minutes training time. So it's got all the time-saving benefits of Power Plate, but with a tough cardiovascular exercise built in – where do we sign up?
The exercise
I started with a couple of minutes' warm up, cycling as you would usually on any exercise bike, before my instructor switched on the vibrations. Straight away I could feel my legs working harder, pushing over what felt like jagged bumps on an imaginary road; this is the crank system which is delivered through the pedals as you go. The harder I cycle, the more the vibrations intensify, working me up into a sweat as if I've been on it for a lot longer than I really have. Let's be honest - that's any gym-goer's dream...
Some vital statistics to impress doubters; compared to muscle activity when the vibrations are off, the quadriceps work an extra 167%, hamstrings work an extra 144%, and the glutes are pushed a further 138%. Building strength, toning and a great way to aid weight loss as well as getting your heart pumping, the PowerBIKE could revolutionise your home gym with two fitness bikes in one. Cardio and so-called Acceleration Training together at last - the best of both worlds.
The result
After just ten minutes of trying out the new machine I was sold on the concept; I like the ethos that the harder you work, the harder it works you, as well as the fact that it's entirely eco-friendly since it doesn't even need plugging in.
My legs usually feel jelly-like after a tough session of Power Plate, but with the bike I could feel them working a lot harder as well as my heart rate increasing, so I really felt like I was giving it my all. It's low impact, timetable-friendly and an all-in-one device for both aerobic exercise and toning – more innovative than most of the machines you'll find in your local gym.
With athletes and professionals already using it to train and enhance performance, it's clearly going to take the fitness world by storm – after all, reinventing the wheel is no small feat…