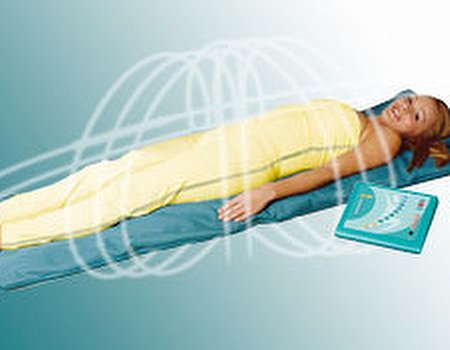 When Wahanda heard about magnetic therapy we just had to try it out – well, if it's good enough for Roger Federer, then it's good enough for us. An alternative, non-invasive drug free treatment that can benefit everybody, magnetic therapy claims to not only be great for illness or injury, but also for maintenance of good health. We wanted to know more, so spent the morning down at the BEMER Health Centre in Wandsworth and heard some fascinating stories while we were there…
The venue
The BEMER Health Centre is based in the same beautifully reformed building that harbours the UK's first Salt Cave which we recently tried out and loved. Clean, clinical yet relaxing, the centre is run by magnetic therapy enthusiast Kathy Geminiani who has just two treatment rooms.
Having discovered magnetic therapy eleven years ago through a friend and seeing fantastic results of pain relief in those that used it, Kathy is now a full time BEMER practitioner and uses the device daily, morning and night, to maintain her own health. If Wandsworth is a little out of your way, Kathy can even come to you or rent out the machines – so no one need miss out on the pioneering treatment.
The treatment
Magnetic therapy: non-invasive, drug free, no side effects… too good to be true? We thought so, but step into the clinic and hear Kathy's astounding stories of the people she's helped over the years and your cynicism melts away. The BEMER equipment has been approved by the German government and is backed by scientific research. Whether you've scolded your arm, got a blister, torn some tendons or injured your elbow, the BEMER machine can help you recover with alarming results.
Before we try out the dream machine, Kathy tells us how it all works and why it could help our eczema troubles as well as sports injuries. BEMER stands for bio-electric magnetic energy regulation. The therapy involves laying on a mattress which contains magnetic coils, which then has electricity passed through it to create an electro-magnetic field which pulses through your body. This stimulates microcirculation, sending blood and oxygen to all those tiny cells within your body and giving them the energy they need, and therefore maintaining good health. Kathy explains that a lack of microcirculation leads to dying cells which ultimately leads to illness, so of course the treatment can help with everyday health as well as aid healing.
And heal it can; Kathy has helped many patients suffering from sports injuries, eczema and more. Just recently Kathy treated someone with a skiing injury to their leg – the patient arrived limping, and after just one session on the BEMER they walked out limp-free. In another case, an eleven year old boy with severe eczema who had been visiting the Salt Cave next door was treated with the magnetic therapy, plus the intense light therapy that Kathy also offers. The redness and rawness of his skin was reduced and he left less distressed, along with some of Kathy's aloe vera gel that she swears by for skin conditions.
These cases along with news that Roger Federer uses magnetic therapy to keep himself healthy and injury-free for his tennis games, were enough for us to believe in it. After a glass of water beforehand, Kathy led us through to the bright treatment room where we removed our shoes and hopped onto the bed. It looks like a simple bed but has the BEMER mattress on top, which contains those all important magnetic coils.
Kathy set the machine on the base programme for sixteen minutes and left us to drift off into a comfortable doze, with our palms flat on the bed. Our muscles felt a little heavy as if winding down at the end of a long day and our head felt a little tingly, but other than that we couldn't feel a thing. We then had twelve minutes on the intensive setting, and then it was all over. We had another glass of water to help clear out those toxins and then rubbed in some aloe vera gel to our arms.
The result
While we didn't have any specific injuries to heal, we do suffer from eczema so were hoping that the magnetic therapy would help. Though there was no obvious visible difference in our skin straight after the therapy, it certainly made sense that continued use would help, and the case studies speak for themselves.
Kathy's aloe vera gel from Herbalife also worked wonders on our skin leaving it smooth and silky, a refreshing change from the dryness of eczema. A great way to restore the body's self-regulation, the BEMER machine may just be the answer to good health all year round, and could soon be the sport world's best kept secret.
Could BEMER therapy help you?
Chronic tiredness
Arthritis
Psoriasis
Eczema
Wound healing
Fractures and many more...