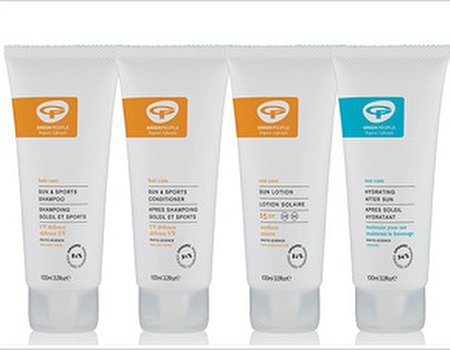 The summer holiday beauty checklist can seem quite daunting after months of hibernating with little more than a good moisturiser, but if you want to tick off the essentials then we've found just the thing. Organic skincare brand Green People have put together four fabulous must-haves for your suitcase into one handy travel set, so you can stay sun safe this summer with no fuss. Naturally, we just had to give it a go to make sure it was up to scratch...
The product
Green People started when a mother decided to solve her young daughter's skin problems by going to the root of the cause - chemicals within household and beauty products. She worked to create a brand that used natural ingredients only; so no parabens, synthetic fragrances or colours that could irritate the skin.
That was almost 20 years ago and now Green People offer a huge range of products for sensitive skin - and they're suitable for vegans and vegetarians too. This gift set is a quartet of quality products designed to see you through the summer; sun lotion, after sun, UV defence shampoo and UV defence conditioner.
The treatment
The four products have different scents - all natural of course, and all evoking a sense of summer thanks to the fruity ingredients. While the Sun Lotion contains green tea and edelweiss, the cooling After Sun has mint, calming calendula and aloe vera to soothe and moisturise. Even better, the sun cream offers UV protection as well as a tan accelerator so you can bronze without the burn.
But it's not just skin that needs protecting; the shampoo and conditioner reduce the effect of the sun's rays on your hair, while cleaning away any sea salt or chlorine to reveal healthy looking hair scented with jojoba and avocado.
The result
The lotions are thicker than most sun screens - both feel rich and creamy as you rub them into the skin and the natural fragrances are really refreshing rather than sickly-sweet. It makes a change to have scented skincare that is suitable for sensitive skin; those of us with allergies usually have to rely on fragrance-free products in order to avoid a reaction.
The shampoo and conditioner are ideal for a trip where swimming and sunbathing are on the agenda. Both smell divine, leaving hair squeaky clean and shiny while protecting it from the sunshine. Multitasking at its best...
Fancy ticking sun protection off your list in a single swoop? We have a great offer on the Green People travel kit so you can save over 50% off while saving your skin too. Don't miss out - the tube of treats is a must for summer and has the Wahanda seal of approval.