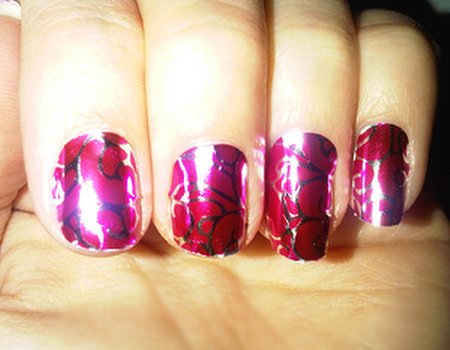 As a beauty writer at Wahanda I should probably know more about facials and massages than makeup and cosmetics, but for me the latter is a necessity rather than an indulgence. I never leave the house without a flick of eyeliner and a sweep of mascara, but my favourite way to experiment is with my nails.
So easy to update and a great way to keep on trend (without spending a fortune on shoes), trying out new manicure tricks is becoming a bit of a habit, from long-lasting Gelish to fun crackle polishes. That's why when I heard we were doing a great deal on nail wraps I couldn't wait to give them a go.
The product
GetGorgeous! know their stuff when it comes to beauty trends and have nailed the look for the upcoming party season. As well as flirty false lashes to make eyes pop, they've got some great nail wrap designs inspired by Minx nails that are sure to add some extra sparkle to the festivities.
The treatment
I tried out the pink and silver design - the louder the better where nails are concerned! Applying them was super simple but I would recommend having a friend help you out for best results. All I had to do was peel back the foils which were on a clear sheet, and press them carefully onto my clean bare nails. For some of them I used the hairdryer just to gently heat them up a little and make them more flexible.
Putting the round end against the cuticle and smoothing them over my nail, I then had to trim the excess to the shape of my nails - this is where it helps to have a nice friend around, since using scissors with the wrong hand is rather tricky. Once they were the right size, I simply filed them with my usual nail file in one direction to give a smooth edge and voila, my nails looked ready for the party I was off to.
The result
They were easy to put on (save for a few scissor issues - definitely using clippers or a willing friend next time) and more importantly, I thought they looked great on. They'd work no matter what the length of your nails, are lovely and shiny for a very glam effect and I had plenty of comments on how pretty the design was. I was also really impressed with how many I had left on the sheet as they are really generous to make sure you have enough to cover any mistakes. Definitely something I will be trying again this Christmas - and I'll also be popping them into a few stockings too…
Like what you see? We've got a special offer on a set of four GetGorgeous! Foil Nail Wrap Designs which means you can try them all out for just £10. Hurry - the deal ends soon…