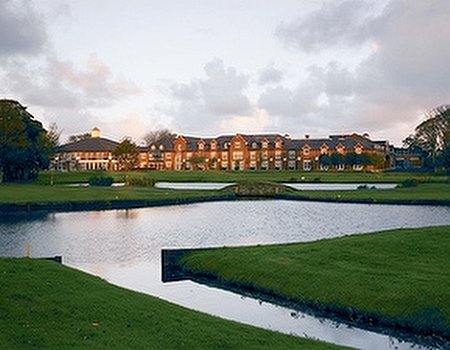 When my friend said we were off for a spa day in Liverpool as part of her hen weekend, I was part-excited, part-mortified at the thought of getting up at 8am after the night out we'd planned. But I needn't have worried.
Though a spa isn't usually the first choice for a hen party, it's not only a great idea but it makes total sense. The bride-to-be has been busy for the past year or so planning the big day, while we all want to spend time with her to gossip and get her alone before she becomes a Mrs. A whole day to chill out over tea and treatments is therefore a pretty perfect scenario.
The venue
A short drive outside of Liverpool's city centre sits Formby Hall Spa, an impressive building with expansive grounds which make a great view from the steam and sauna rooms on a sunny day. This is not one of those 'spas' with two treatment rooms and a jacuzzi - we're taken upstairs to a dining room for a welcome drink, given a tour of the facilities (changing rooms, a relaxation room, lounge, steam, sauna and heated loungers, full-length swimming pool and jacuzzi) and then handed our robes and slippers to get into. We'd all opted for various treatments when we booked, so we were told when our appointments were and then left to enjoy our day however we liked - bliss.
Exhausted from a week of work and a night out before our early start, I made the most of the comfortable relaxation room before summoning up the energy to swim a few laps and then enjoy the foot bath in the wet room. Despite being a Saturday, the spa wasn't too busy - there were plenty of people about, mostly couples or small groups of women, but the sheer size of the building and variety of rooms meant we would wander around as we liked between treatments and lunch.
The treatment
I'd originally booked a back and shoulder massage (which I am told is fantastic here) but on the day we decided it was best not to have a treatment involving oils as I have very sensitive skin. The spa and therapist were so accommodating about this change of plans and immediately suggested a dry floatation treatment - which is so much more luxurious than it sounds.
In my own private room where some slightly distracting gong-like music was playing, I was told to hop up onto a large bed. My therapist then cocooned me in the softest, warmest blanket ever - it's the little things that count - and then pressed a button which made the part I was laying on move slowly down so that I was laying on water, only without being in it. It's effectively like laying on a water bed, only the jets underneath move the water about so that you feel like your back is being massaged.
The result
I was left for half an hour to enjoy the feeling of floating away in my cosy surroundings. My back felt more relaxed after a week of sitting hunched at a desk, I let my mind drift off and I even managed to doze a little. It always takes me a while to fully switch off, so I would definitely recommend an hour of this rather than thirty minutes - I really didn't want to leave so was quite sad when my therapist returned to switch it all off.
With little sleep the night before and a busy night planned for that evening, the rest was exactly what I needed. While my fellow hens had been rubbed and scrubbed and pampered, I felt like I had been floating in a warm sea somewhere exotic (the imagination is a wonderful thing). It worked wonders, and I'd book it in advance next time without hesitation.
Glowing green with envy? Take a look at our deals and offers at Formby Hall Spa for inspiration, or check out our money-saving spa day deals. Go on, you deserve it...