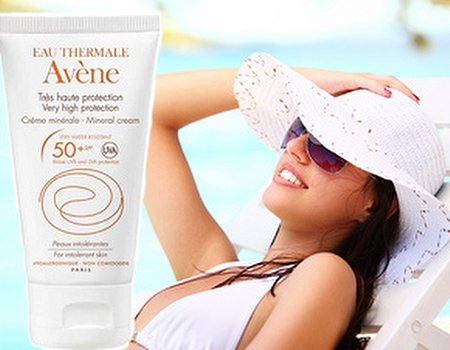 This week's Sun Awareness Week has had us preparing for the summer ahead as well as re-looking at our current skincare regimes. With worrying stats revealing that the majority of us Brits don't protect our skin in the UK sun, we thought it was high time to highlight the issue and make sure Britain starts acting sun savvy.
Sun protection should be a no-brainer for normal skin types - just slap it on; but for those of us with sensitive, intolerant or even allergic skin, it's quite the beauty dilemma. The sun will often cause sensitive types to react with prickly heat and sunburn, while the SPF filters in sun cream itself can cause irritation too - leaving us a bit clueless on how to stay sun safe. Thankfully, there are a few brands out there who know their stuff when it comes to skin reactions - and our long time favourite Avène now has a sun care range that'll soothe any sunshine woes…
The product
Avène prides itself on offering skincare that will suit any degree of sensitivity - they cover sensitive, intolerant and allergic skin types with their great range of skin creams, cleansers and now sun care. Being a super sensitive type, I tried out their recommended cream for allergic skin in the range - the Very High Protection Mineral Cream SPF 50.
The cream's formula uses a 100% mineral screen to create a barrier that blocks the rays of the sun, rather than sinking in to the skin itself - making it ideal for those of us who have to be gentle with our skin. Paraben, alcohol and fragrance free, it suits those with a delicate disposition while also protecting against UV rays.
The treatment
The cream itself is in a 50ml tube much like their daily moisturisers, so it's ideal for travel. As a huge fan of Avène's standard skincare, I thought I knew what to expect - but was pleasantly surprised when I realised it was lightly tinted too. Why isn't more sun care like this? Holiday skin for me means daring to bare all, with little makeup during the day because it simply melts off or clogs my skin in the heat, particularly if I've used a sun screen underneath; this innovative product banishes the fear of leaving your face nude because it not only protects, but leaves a gentle translucent sheen on the skin too.
The result
Unsurprisingly, I was really, really impressed. Sun creams are often more greasy than standard moisturisers, but this felt much like my usual Avène daily moisturiser (which incidentally has an SPF 15) - quite a light consistency so that a lot goes a long way. Best of all was the tint - it really is a great idea because it makes those makeup free days in the sun much easier to do. The colour is light and doesn't give a strong coverage, but leaves skin with a healthy, even glow, much like a tinted moisturiser. And there was no allergic reaction in sight. Result.
Of course, the icing on the cake is the high SPF - anyone with sensitive skin tones will want the best protection around, so with factor 50 in the bag you can be sure you're giving your skin exactly what it needs. This one's going straight into our holiday essentials kit - and we'd happily wear it every day here in the UK too. If only the sun would come out to play a little more often…