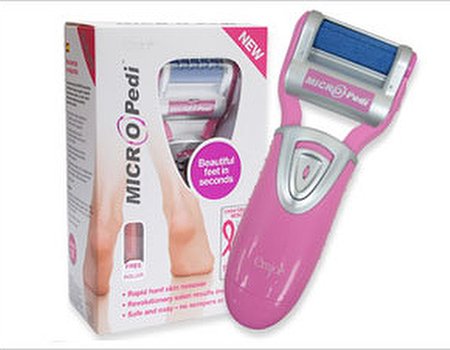 After a summer of wearing flip-flops and sandals, our feet are always in need of a bit of TLC before boot season but there comes a time when a bit of pumice stone just won't cut it - literally.
If your heels have seen better days and are so bad that you can't even bear to pop to the salon for a pedicure, you need to get tough with your equipment. After hearing all sorts of good things about the MICRO Pedi, we decided to give it a try to see what all the fuss was about…
The product
Though we love a trip to the spa or salon to sit back and have our toes pampered, there are times when you just need to do a bit of DIY. The MICRO Pedi is a small, battery-operated pedicure device which removes dead and dry skin to leave feet just how nature intended - super smooth and looking pretty. All it takes is a roller which spins at 360º, 30 times a second; that's more than an old foot file could ever do.
The treatment
The best bit about giving this product a go is that it's fuss-free. Simply slide in your batteries, pick one of the two rollers (the blue coarse one for extra hard skin or the pink roller for sensitive areas) and switch it on.
When I first looked at the blue roller, I wasn't convinced it'd be all that powerful, as it didn't seem particularly rough or strong. But as soon as I swept it over a bit of my heel, I could instantly see the difference. You can't press too hard or else the motor stops, which means it's completely painless and requires no effort at all - it's actually quite relaxing.
The result
There are very few products out there that actually live up to expectation, but the MICRO Pedi is definitely top of its class. Quick and easy to use and instantly effective, in just five minutes (you might need more if your feet could really do with some help) my feet were back to their old selves again and I felt brave enough to bare them in front of human eyes. I might even go and get that pedicure…
The makers of this little wonder product are doing their bit for charity this month too - pick yourself up a pink MICRO Pedi from Lifes2good on 0845 399 0038, or at www.micropedi.co.uk and from selected Boots stores for £39.95 and £1 from every sale will be donated to the Pink Ribbon Foundation. Good feet and a good deed? We love it.