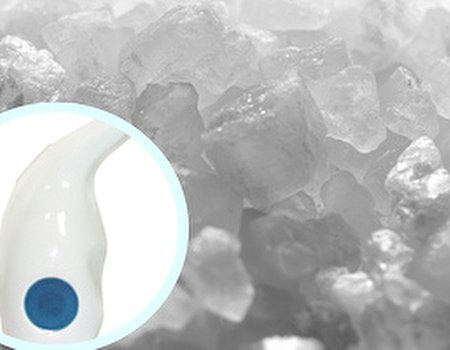 When halotherapy, also known as salt therapy, was brought to the UK thanks to The Salt Cave in Wandsworth, we couldn't wait to try it out and share our thoughts with you. But that was a whole two years ago and while the pioneers have expanded to run a further three locations of these cavernous havens, another company had a bright idea to bring the trusted treatment to even more allergy sufferers worldwide. And so, the Salt Pipe was born.
The product
Cisca's Salt Pipe is an all natural dry salt inhaler, which uses dry aerosol micro-particles to help beat allergy symptoms. With millions of us struggling with hayfever and other allergies this summer, this quirky little invention brings the benefits of the natural therapy to you as and when you need it.
Whether you're knee-deep in mud in the middle of a grassy field at a festival or you simply can't walk outside without a sniffle, the Salt Pipe is a handy addition to your handbag to keep the sneezes at bay. All you have to do is breathe in with the pipe through the mouth (a little like you would with an asthma inhaler, but with less force) and then breathe out through the nose.
The treatment
Salt has long been used to boost the immune system, giving the lungs a spring clean and allowing them to take in more oxygen. The moisture of the moving air absorbs the microscopic particles of salt, allowing it to penetrate the entire respiratory tract. It draws excess fluid from the sinuses and cell lining, cleansing the nasal passages and opening the airways to leave you decongested itch-free. The salt can even thin down mucus (lovely) to help clear it away and give you a breather.
The result
Hayfever sufferer, general cold-haver and all round lover of natural therapies, I was excited to give this a go. The instructions said to use the pipe for around 15 minutes at a time, a few times a day – which I found quite hard to stick to with such a busy schedule, but I tried my best. I was just getting over a summer cold when I started using it, and found it helped to ease the congestion in my airways so that I could breathe a little easier at night – always a plus!
It's still quite bulky to fit into a small handbag but if you can take it out with you (and don't mind the odd stare on the tube) it makes a great alternative to antihistamine tablets. The smallest pipe (the Cisca Easy Pipe) lasts up to six months, which is pretty impressive considering most of us will only suffer for around three months a year.
Having taken an antihistamine every day for the previous month, I wanted to cut down and managed to do it by using the pipe; on particularly high-pollen days I kept tablets with me just in case but thanks to the Salt Pipe I have managed a few days a week with no tablets whatsoever.
As a fan of salt therapy already, I will definitely be keeping up my use of the pipe for the next few months to keep allergy symptoms at bay – and even if I still need to go back to my antihistamine-popping ways, at least my lungs will be cleared of the heavy London air…