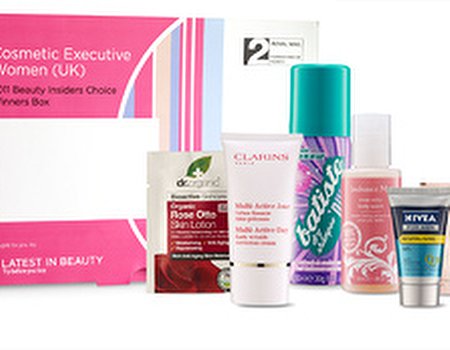 We're always keeping a beady eye on beauty trends here at Wahanda, and one that we've noticed growing in popularity with our Twitter followers, fellow bloggers and beauty fans is the 'try before you buy' mantra.
We've been a keen player in the trend for some time ourselves, with our free skin consultations and free fitness deals which give you the chance to try out that Pilates class or see what's really involved in a skin peel - but the latest to the try-it-first table is the idea of the beauty box.
These beauty boxes are a selection of travel or sample sized beauty products that are sent out and delivered to subscribers for a small fee each month. From the Boudoir Privé box to Feel Unique's version, the regular box of mini goodies allows beauty fans to try out the latest products, see what suits them and discover new brands - and given that we love our makeup and lotions and potions, we like the sound of that...
One of the UK's original sites that uses this concept is Latest in Beauty. Starting out with monthly sample boxes giving subscribers a few samples for just £1, the mail order beauty club has now grown to create a themed box of luxury samples every two months for beauty enthusiasts across the UK. For just £4.95, those who sign up will receive five travel sized samples which you can see before you order, so you'll never be disappointed by your box.
It's simple, easy and of course allows us to try out something new every month - what's not to love? This month we tried out the special 'Beauty Insiders Choice Winners Box', based on the Cosmetic Executive Women (CEW) UK awards.
In our neatly packaged box was:
Clarins Multi-Active Day Early Wrinkle Correction Cream (15ml)
Balance Me Rose Otto Body Wash (55ml)
Batiste Dry Shampoo (50ml)
Nivea For Men Revitalising Gel (15ml)
Plus small samples of:
Lanolips Lip Ointment
Dr Organic Rose Otto Skin Lotion
The products were exactly the size you'd want to take on holiday, and we loved the scent of the dry shampoo - a handbag must-have for any woman. A great way to see what suits your skin, what smells good, and what works, we're already huge fans of Latest in Beauty and can't wait to see what's in the next box. Far more glamorous than having to play with the testers in Boots…