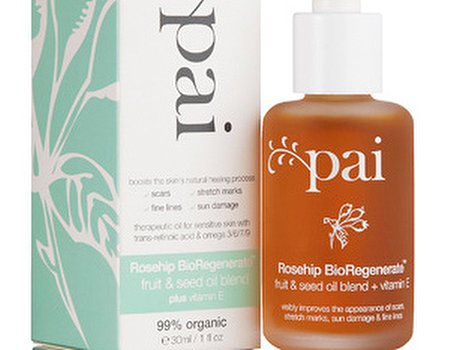 If there's one thing that bugs me in the beauty industry, it's the number of products that claim to be suitable for sensitive skin when they're not quite sensitive enough. How do I know? Because I then end up with redness that I have to fix with lots of soothing products and start all over again… sound familiar?
I'm always on the lookout for the really good stuff - the brands who understand that we can't all put strong fragrances and chemicals on our skin and get away with it. Recently I was raving about Avène, whose expert skincare range has a permanent place on my shelf. But I'm now making some extra room, because I've discovered another brand that caters for fair and fragile skin like mine and does it with flair. Meet Pai Skincare - organic skincare for sensitive and allergy-prone skin.
About Pai
I'm sold on the gorgeous packaging myself, but it's what's inside that counts. Or what's not inside, rather - Pai products are free from irritating synthetics, which means goodbye to parabens, alcohols, sulfates, phenoxyethanol and propylene, a refreshing change from others on the market. Pai are keen to be completely transparent when it comes to the ingredients in their products; that means plain English on the bottles and a full list so you know what you're putting on your face. Simple, no?
Launched in 2007, Pai are not only certified organic by the Soil Association, but they also pick naturally active ingredients with therapeutic properties - music to any sensitive-skin sufferer's ears. And with celebrity fans like Natalie Portman, they come very well recommended.
Pai products
With products that can help soothe adult acne, contact dermatitis, eczema, rosacea and of course ageing skin, as well as catering for all skin types, Pai will suit anyone - something not many brands can put on their label without bending the truth a little.
Favoured by Natalie Portman (and now myself), the Chamomile & Rosehip Sensitive Skin Cream is quite possibly the most gentle, soothing and downright lovely product you'll ever put on your face. It's thick and creamy without feeling too dense, and has a delicate scent that doesn't make your skin tingle - an absolute first. Of course, the ingredients also work their magic, with anti-oxidants and Omega 3 & 6 in the chamomile and rosehip - so it doesn't just feel good, it does your skin good too. A firm favourite!
Facial oils have been growing in popularity over the last few years, and with winter on the way I'll be stocking up to save my skin from the cold. Pai of course have got this skincare staple covered with the Rosehip BioRegenerate, a beautifully light oil that not only moisturises but helps to hide those scars, stretch marks and lines - and not a red mark in sight, phew!
Whatever your skin needs - whether you need to protect it, heal it, soothe it or simply show it a good time, Pai gets our vote. Organic, original and open about what goes into their products, we only wish more brands would take a leaf out of Pai's book…