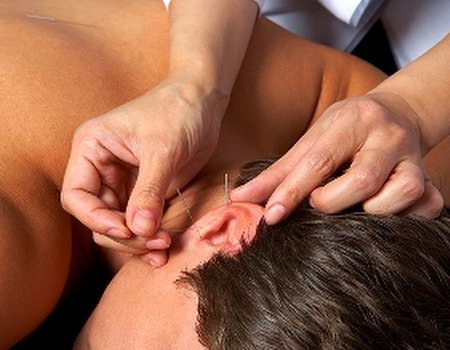 When we were given the opportunity to try out the new revolutionary Acustaple, we jumped at the chance. It has been brought over to the UK from the States, and we were more than happy to test it out, especially if it helps us to lose a few pounds for those Christmas parties that are looming over the next few months.
Acustaple is a combination of auricular therapy, acupressure and acupuncture. Rather than having scary needles pin cushioned on your body, a tiny staple is placed on a pressure point in both of your ears. The staple placed on the pressure points help to target stress and curb those pesky cravings for that crafty cigarette or cheeky chocolate bar.
The Clinic
We headed off up to Crosby Physiotherapy Clinic, where we were met by a therapist who was very friendly and welcoming, and made us feel at ease straight away. The clinic itself is only small; it is very clean and professional. The treatment rooms are basic but comfortable. The therapist instructed us to sit down and then told us about the treatment and what to expect. She asked us what we wanted the staple for and if we were prone to any allergies, migraines or IBS.
The Treatment
We wanted to see if the acustaple would help us lose a few pounds. So once the pressure points were found, a tiny surgical piece of stainless steel was stapled to our acupoints in the middle cartilage of our ear. The staple provides a continuous pressure to specific points in the ear, and sends a signal to your brain telling it your stomach is full. If you want to stop smoking the staple apparently can even cause a strong distaste for tobacco.
Our therapist, Lyn did warn us that we would feel a little sharp pain once she staples the ear. It felt like getting your ears pierced - so good news for those with a low pain threshold, as it only lasted a second.
Lyn gave us a free cleaning kit to keep our staples clean and free from infection. You have to clean the staples daily with saline solution using a cotton bud, and whenever you have a shower you need to make sure you dry your ears using cotton wool. Lyn told us not to pull our staples and if they came loose they will reposition the staples at no charge. The staples can stay in your ears between three weeks and four months.
The Result
After a few days we found that our appetite had been curbed, and found ourselves drinking more water than usual and craving more healthy foods. We found ourselves feeling perkier and full of energy, and after just four months of having the staple, we lost 14 pounds and dropped a dress size - and this was without extra exercise. The main reason for the weight loss was thanks to the fact that we were constantly wanting to eat healthy foods rather than reaching out for a chocolate bar or burger – our mums would be proud. Whether you want to fit into that dress for a special occasion or quit smoking for good, acustaple could be your new best friend.