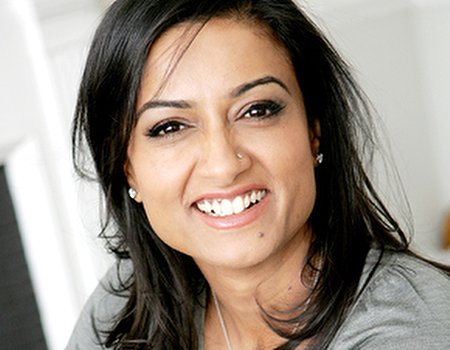 Eyebrow expert. Grooming guru. The authority on arches. After 25 years in the industry, Shavata Singh has earned all of these titles so it's no wonder that her name has become the first word in eyebrow maintenance. While working at Michaeljohn in Mayfair, Shavata plucked up the courage to tell the Vogue editor whose legs she was waxing that she had bad eyebrows. After transforming them, she was featured prominently in the magazine and the rest, as they say, is history.
Shavata went on to open a concession at the Urban Retreat in Harrods and another 20 around the country. Earlier this summer, she launched her flagship store the Shavata Brow Studio in Knightsbridge. With business booming and brows bigger than ever, she took a minute away from her busy schedule to talk to us about brow icons, how to get that perfect arch and whose brows she'd most like to get her hands on…
What, in your opinion, are the essential tools for maintaining brows at home?
A brow brush, a magnifying mirror and a great pair of tweezers.
What's the best way of finding your natural brow shape?
I would always recommend going to a professional to find your most flattering 'shape', then maintaining it at home by tweezing a few hairs daily. This way you can keep the correct shape without over-plucking.
What made you decide to go into the beauty industry?
After trying one beauty class I knew instantly it was for me. After school I trained for three years doing a hairdressing and beauty course at City & Guilds, before moving on to work at leading London salon, Michaeljohn, in Mayfair. I was the only therapist threading and many of our clients requested/ preferred threading and liked the way I shaped their brows and just kept coming back.
What advice would you give someone who has overplucked their brows and doesn't know what to do?
Don't panic! The cycle of hair growth is around 8-13 weeks, so I would recommend just leaving them and waiting for them to grow back. Fill in any gaps with a brow pencil, then when brows have grown back, have them professionally shaped.
What's the difference between brow powder and brow pencils?
Pencils are great for women who want to draw in a shape. Shadow is for women who want to colour the hair and the skin – for example, blondes would be advised to use brow shadow.
What is the best method of brow shaping; waxing, threading or plucking?
We use a combination of all three in our studios, and decide on whichever method is most appropriate for the individual.
If I dye my hair a lot should I get a brow tint as well? Or is natural colour best?
I would always recommend getting a tint as it adds to the manicured look. Opt for two shades darker than your hair colour, that way it looks natural and makes brows appear fuller.
What's the worst brow sin to commit?
Over-plucking, as obvious as it seems, try to avoid over-plucking eyebrows at all costs. Hairs don't always grow back and you can run the risk of permanently losing your most flattering shape. If you have over-plucked, the best thing to do is be patient and prepared to wait a while for them to grow back. The cycle of hair growth is typically 8-13 weeks.  
How do you feel about brow tattooing?
This is a service that I offer at my new flagship brow studio on Beauchamp Place and I have a trained therapist who specialises in semi-permanent brows at my Studio in Harvey Nichols Manchester. I recommend the treatment for those with hereditary scarce brows, over-pluckers, people who don't like their brow shape or those recovering from medical treatment that has caused hair loss and want to create a new brow.  For me it MUST look natural, which is why I use a pioneering technique called 'a blur of colour' which contributes to the natural look. After all, everyone will notice a bad semi-permanent eyebrow job, but no one notices a good one.  
Who are your personal brow icons?
Kelly Brook – her brows frame her face beautifully, in line with the latest trend for a thicker fuller eyebrow shape. Her arches are placed correctly to accentuate the eyes, and her brows look well groomed and maintained but natural at the same time.

If you could be let loose on anyone's brows, who would you choose to groom?
Katie Price's. I would soften them to make her eyes the feature and not her brows.