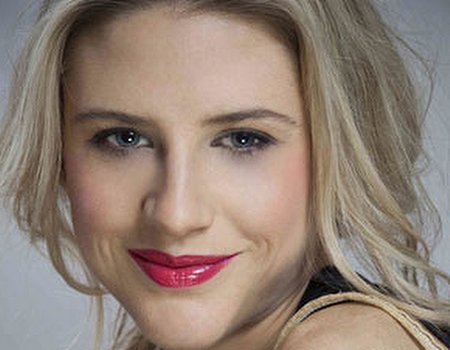 You may only just be summoning the courage and motivation to bring out your neon nail shades and candy pastel make up, but amidst a flurry of heels, camera flashbulbs and competitive dressing, the last few days have seen London Fashion Week bust out the looks we'll be wearing in autumn. So take a deep breath and get ready for hair ribbons, retro lips and the Russian flush - because before you know it, summer looks will literally seem so last season.
Make up
The Tonal Eye: Oh how fashion loves to play with us. Come autumn, you'll be expected to work slept-in, sludgy eyes in seamlessly blended, multi-tonal caramel tones. A tricksy one to wear without looking plain tired, your best bet is to take a tip from make up artist, Wendy Rowe who blended new sable and mulberry shades, (coming for autumn) over the lids at the Burberry show to channel the look of the season's 'it' muse: Cara Delevingne.
The Retro Lip: It's time to reacquaint yourself with your Cupid's Bow. At PPQ, lip liner was used to sculpt a slightly 'peaked' shape before matt red was slicked on for a '40s-style finish. Apply your favourite red lipstick, then dust loose powder over the top for the necessary velvet finish. Use liquid black eyeliner to draw a small heart on one cheekbone for the new season way to work a beauty spot.
The Russian Flush: It's a truth universally acknowledged that a woman can never wear too much blusher. Still a cynic? I refer you to Val Garland – the make up maestro who blended two lipsticks, (try L'Oréal Paris Color Riche Made for Me in Intense Crazy Fuchsia and Nude Tender Rose, £8.19; www.boots.com) to create the 'I've-just-taken-a-brisk-walk-in-Moscow' statement flush at Temperley.
The Floating Liner: For decades, our eyeliner has been anchored to our lash lines – now, though, our flicks are being set adrift. At Erdem, Andrew Gallimore left a gap at the outer corner of the eye, then used liquid liner (try MAC's Penultimate Eye Liner, £15; www.maccosmetics.co.uk) to create the merest flick. Pair with a naked eye and a chunky lash and you'll wonder why you bothered pinning your liner down in the past.
Hair
Hat Hair: Your head is about to get bigger – because hats were all over the AW12/13 catwalks. While in the past you'd have to pick headwear or good hair, at Margaret Howell, stylist Neil Moodie envisaged a girl who'd been on the ski slopes and came up with a way to rock both. Mercifully simple, you create a rough side parting, pull hair back into a low pony, backcomb the tail then sling it over one shoulder. Pop on said hat and rock an après-ski Kate Middleton-esque style.
Dip Dye 'Dos: Last seen when a home hair colouring experiment went awry circa 1995, pink hair is back. Think Lauren Conrad, think Abby Lee, then - rather than go for a full-on look - merely 'tickle' the ends of hair with a splash of colour, in the manner of AWW12/13's Pringle show.
Toasted Tresses: The Giles show proved without a shadow of a doubt that ribbons need not be girly – if you inject a bit of a rock and roll vibe. Cue stylists burning holes into strips of ribbon for a holey accessory that was tied around a low pony. Perhaps not one to try at home, the high street will no doubt come up with a version that won't involve watching your house go up in flames.
The Post-War Wave: Hair next season is a curious mix of dressed down and done up, up, up. In the latter camp was Luke Hersheson's Veronica Lake-inspired wave at Michael van der Ham. Hailed as 'the return to old school hairdressing techniques', it requires lashings of hairspray and shed loads of patience to get this one right. This is definitely one to request when you book in for a professional blow dry.
Nails
The Hybrid Nail: Remember when a straight 'pink' or 'red' used to be acceptable for nails? Of course you don't, because for the last few seasons, crossbreed colours have become the norm (think 'greige'). This autumn, it's all about taking a certain shade of blue, mixing it with a very specific tone of green – and coming up with 'teal'. It was seen at Holly Fulton, it was rocked at Berardi – look out for Revlon's forthcoming shade, Fashionista to get your talons on trend.
The Showstopper
As it returned from Milan to show in London, the Moschino Cheap and Chic show was the talk of the town. Arriving backstage, the beauty pack were greeted by rows of candy-coloured shoes standing to attention, rails of liquorice print skirts and impossibly cool baseball short-like dresses. And then came the glitter. Against a flawless backdrop and peaches and cream skin, lips were bedecked with chunky gold glitter. To set off the sparkle, super-stylist Sam McKnight backcombed the living daylights out of hair with Pantene's Volume and Body Hairspray, (www.pantene.co.uk) before whipping it into a modern take on a '60s beehive and topping it with ballet pink satin hair bands. Sitting on the FROW, Alexa Chung loved it – so suffice to say, this is one sugar-coated look you'll want to recreate.