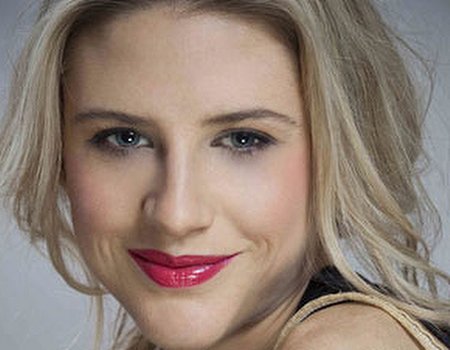 We went backstage at London Fashion Week to find out which trends you'll really be wanting to rock next summer; there were triangle-shaped afros, six tone nails and (deep breath) green faces. London Fashion Week proved to be its usual melting pot of the weird and wonderful.
Yet somewhere between cartoon faces and 'beautifully feral' hair, (no – not a clue either) there were some really wearable trends that you'll want to take from backstage into your own bathroom. Here's our top five.
1. The impeccable pony
Whether you looked left or right, London Fashion Week was full of side partings. The easiest way to work this is to take a tip from stylist, Luke Hersheson at DAKS and copy his newly neat pony. Wave goodbye to your baby hairs by spraying L'Oréal Professional Infinium Hairspray, £10.50 (0845 6000 122) onto your brush before using it to smooth hair into a deep side parting and a low ponytail at the back. Apply a smidgen of the Techni Art Liss Control gel cream, £9.45 (www.lookfantastic.com) then iron the tail for Hersheson's "impeccable, boyish take on the SS13 pony".
2. The pink eye
Yes it sounds like a one-way track to looking like you've mysteriously contracted Myxomatosis. Yet done in Hannah Murray's 'grunge meets pretty pink' way, it can look surprisingly flattering. The trick is in the Murray mix. She blended Topshop's Prime Time Blush, £6 all over the eye socket before smoothing a pink shimmer shadow from their Constellation Eye Palette, £12 over the top and adding a slick of black pencil in the waterline. Three products – and treble your chances of nailing SS13's rosiest eye trend. (www.topshop.com)
3. The clever contour
You've tried your damnedest to give bronzer a go and get that 'glow'– but somehow it always ends up a cakey, grubby looking mess. The solution is (of course) to use lipstick. So says Gucci Westman, who used Revlon's Super Lustrous Lipstick in Mink, £7.49 (www.boots.com) to channel a wholesome, Gwyneth-èsque radiance by using her finger to blend said lip shade just beneath the cheekbone, down the bridge of the nose and on the temples.
4. The apricot tan
Want to stop your tan looking orange? Simply switch fruits and make for the apricot shade Nicola Joss created at Roksanda Ilincic by applying a fine layer of St Tropez's Wash Off Instant Glow Body then blending the Gold and Rose Illuminators over the top. (All £12.26, www.st-tropez.com).
5. The striped nail
If achieving salon-worthy nail art is beyond you, take SS13's 'less is more' approach with the single stripe seen at Emilio de la Morena. Simply use a lip brush to swipe Jessica's Scarlet red polish, £9.75 (www.tsbeautyshop.co.uk) down the inside rim of each nail and voilà – we'll make a talon Picasso of you yet.
And our favourite, maddest of all mad looks? It had to be Vivienne Westwood's crazy Warhol-inspired cartoon girls who had green, orange and blue faces with colour-clashing brows and lips. Best saved for behind closed doors.
See all the looks Bella discovered over on our LFW Pinterest board.