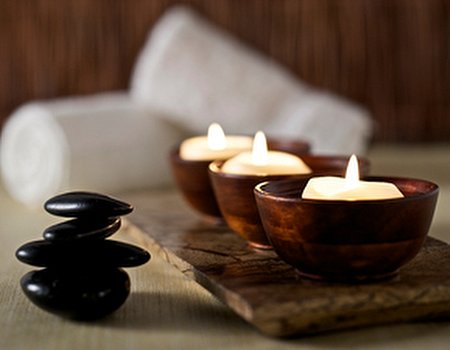 After all the excitement and stress of Christmas, party season and ringing in the New Year, we could all benefit from a little R&R. Something like a deep and invigorating massage to get rid of built-up tension, soothe the body and restore us to our former glory ready to embrace 2013. Recently, I felt the need to reach out to a professional masseuse to help me with stress related issues including tension in my neck and back. After seeing my suffering, a friend introduced me to The Seven Heavens Clinic where I was told a deep tissue massage might solve all my problems...
The venue
Located only 100 metres or so from Finsbury Park tube station, The Seven Heavens Clinic is incredibly easy to get to for any London dweller. Upon entering the establishment - which is nestled between the busy shops and restaurants of Blackstock Road - you feel a world away from the street below.
Offering a range of treatments including Deep Tissue Bodywork, Sports Injury Massage, Acupuncture, Chinese Acupressure, cupping and many more, The Seven Heavens Clinic combines Western theories and Chinese Medicine, tailoring their holistic treatments to each customer. Pure bliss.
The treatment
I was warmly greeted by Faisel, who co-owns the clinic with his brother and was extremely friendly from the start, sitting me down to discuss my requirements and general physical wellbeing. It felt so much more personal to actually engage with someone who was genuinely interested in improving me physically. He discussed all the services they perform, which deal with a range of physical conditions, and we decided the best way forward for me would be a luxurious deep tissue massage.
It was quite unlike any massage I had ever had before. Instead of an hour of relaxation, it was an hour concentrating on releasing the tension that had built up in my body over the past few months, and by the end of the session I honestly felt it had made a huge difference and I actually felt like a new person. The best bit came when I got home and had the deepest sleep I can remember in ages...
The results
This was the most transforming massage I've ever had and I'll definitely be visiting The Seven Heavens Clinic again soon. I can't recommend them enough and since my visit I've introduced them to two family members - who I believe have both benefited from their excellent treatments.
I was also really touched by just how much advice was given on what I could do at home to improve myself. I will now be visiting them at least once a month as they are extremely affordable - I might even be persuaded to try some of their other treatments like Acupuncture or a Tai Ji class next time...