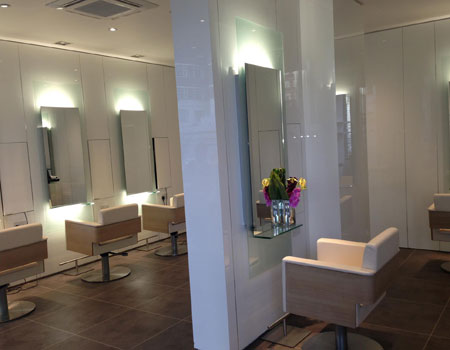 I have naturally blonde hair that, fortunately, turns lighter every summer without me reaching for the bleach. However, with last year's summer a distant memory, my hair colour has started looking dull and mousy (complementing my pasty complexion) due to limited sunlight. I'd been considering getting highlights for a while but really didn't want to commit to anything that needed a lot of upkeep so was nervous of getting anything too drastic and ending up with blonde stripes. When I was offered a cut and colour by the legendary Diego at Joe's Salon Hair London I knew that wouldn't be the case.
The Venue
Based in trendy Chelsea, Joe's salon is sleek, light and modern. Owner, Joe Mehmet, and his creative director Diego Miranda have earned reputations as top hairdressers to the stars and their work has been featured in a number of big fashion publications including Vogue, Tatler and Harper's Bazaar.
I was greeted by their friendly receptionist, offered a drink and a robe and seated. Shortly after, the entire team came to meet me and discuss my new look - Joe, Diego and Josh. It felt a bit like a special task team sent on a new mission to tackle my hair. I explained my hair woes and concerns about colouring and after a quick team consultation they agreed the way forward would be a few subtle highlights to the mid-sections of my hair, matching my natural 'sandy' highlights, and adding some warm caramel hues. They assured me that this would look super natural - as if I'd been on holiday to the beach - and would require no upkeep. Perfect.

The next discussion was the cut. Unfortunately I inherited my mum's hair: very fine and not much of it. My daily challenge is trying to add some volume to it, so I wanted a cut that could make this easier. My hair was well overdue for a cut and, as a result, was looking limp and lifeless. Although Diego advised that a more drastic chop would be the best answer to my flat hair problem, I didn't want to lose the length. Diego suggested the next best option would be to cut into the hair and give it some layers, which sounded good to me.
The treatment
Diego is new to the Salon, having only recently arrived from New York. With previous clients including David Bowie, Naomi Campbell, Julia Roberts (the celeb list goes on) needless to say, I felt star-struck. His cutting technique was quite different to what I've experienced before. I was stood up for most of it as he walked around me, effortlessly snipping. In no time at all he'd cut and blow-dried my hair and it looked awesome.
Next up Josh was ready with the colour he'd been mixing and set to work painting and foiling thin sections of my hair. To achieve the natural look we'd discussed, he focussed on the under sections of my hair, careful not to go too close to the roots. After about 40 minutes happily reading magazines, Josh took me downstairs to remove the foils and rinse. 
After rinsing out the dye, he lathered my hair in a natural Keratin conditioner - the effects of which I could notice days later. My hair smelled amazing and, as I would soon discover, felt softer than ever.
The results
Diego returned to blow dry my hair for a second time and once dry I could see the full picture. My hair looked thicker and felt softer, but without that slightly unnatural 'just cut' look. Despite looking fuller it felt lighter, and I was happy to find the length was still there. I had been quite surprised to see how much hair was on the floor because it really didn't look as though my hair had been cut too much. The colour was incredibly natural and didn't look like highlights. I really did look as though I'd just come back from a beach holiday - I should be so lucky.
Overall, my experience at Joe's salon was amazing. I felt incredibly looked after and was delighted with the results. I walked out feeling like I'd had star treatment and would love to go back someday.