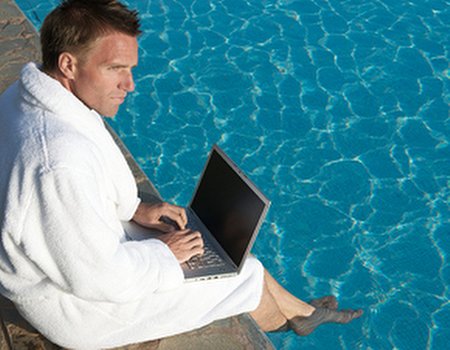 Once you've created a presence here on Wahanda, the next step is getting your voice heard.
Interacting in the community advice section of the site is a great way to help boost your business, but if you really want to make an impression, the best thing to do is set up a blog.
Forget posts on fashion, food and films, a professional blog on this very site can provide a platform to help your individual knowledge and expertise shine through. You don't have to bare your soul or even need to worry about coding or cropping images - simply write and then send your first article to editorial@wahanda.com along with a short biography that sums up who you are and what you do. We'll take care of the rest.
Still unsure about how blogging could benefit your business? Here are five ways in which maintaining a blog can help you to capture (and keep) new customers:
Show off your speciality
If you've been a beauty therapist for fifteen years, why not share some of your top pre-treatment tips? Kind of a big deal when it comes to the world of weight-loss hypnotherapy? Write your findings and quash potential patients' fears by explaining exactly what happens in a typical consultation.
A blog allows you to demonstrate your authority in a specific area, increasing consumer confidence as well as imparting knowledge. Who would you be more likely to trust with your body beautiful - an approachable expert or someone who remains just a name on a page?
Don't be a stranger
A blog also enables you to humanise your business and build trust. With thousands of venues and practitioners present on Wahanda, your blog can really separate you from the masses by providing you with an outlet for your personality. Keep things warm and welcoming and customers will begin to feel like they have got to know their future therapist, meaning they are likely to book appointments with confidence.
Build your brand
Blogs provide somewhere to firmly establish your brand identity, without giving customers a hard sell. Pick a tone (but keep it clean, please), show off your best (relevant) images and even share venue developments - for example, if you are holding a launch, write a post summarising who attended, what went on and include any professional pictures.
Supplement your SEO
Creating online content that contains words you want to be associated with your business will help to drive traffic your way. Search engines scour the web for key phrases that people type into search engines in order to bring up a list of relevant links ('massage in Hull' or 'pain free hair removal', for example). If you make sure your blog posts contain such phrases (once or twice, otherwise you undo the good work and get classified as spam), it will be more likely interested customers will be sent your way.
And don't forget, it's all free
Blogging is ultimately a fun, fulfilling and completely free way to promote your business. Posting regularly is more flexible and also more engaging for customers than advertisements, plus the more you blog, the easier finding the right words will become.
If we ever feel your content has lost its way, we will help to steer you back in the right direction and we can also provide perfectly sized stock images for every post. Sell yourself subtly and reap the rewards without worrying about paying a penny - start your Wahanda blog with a fresh post today.
Not sure where to start? Head to the community section and have a read of the newest blog posts under the heading 'latest health and beauty news' to gain some inspiration.