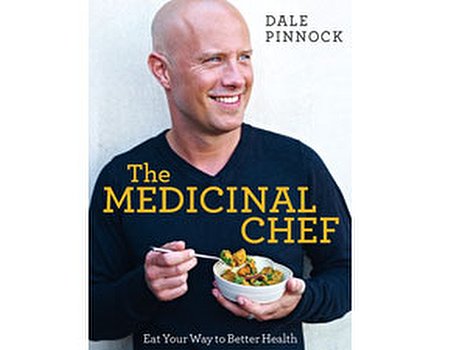 In 'The Medicinal Chef', Dale Pinnock teaches us how to combat 30 common ailments using simple and delicious grub. The book contains 80 different recipes divided by meal type, illustrated by mouthwatering photographs and colour coded by the ailments they promise to help. With easy to follow recipes that help a range of conditions like high cholesterol and anxiety, this book brings a whole new meaning to the expression 'you are what you eat'.
Who wrote it
Dale Pinnock - aka TV's Medicinal Chef - has created a name for himself through his interest in prescriptive "medicinal cookery". Pinnock is a qualified nutritionist trained to degree level in both Nutritional and Herbal medicine, and is currently studying for a masters in Nutritional Medicine at the University of Surrey. He developed his unique approach to food after combining years of study with hands on experience as a wholefoods chef.
Although clearly a major advocate of medicinal cookery and the healing affects certain foods have on the body, Dale Pinnock is quick to reassure his followers that he does not believe in alternatives to conventional treatments or medicines, but in the beneficial effects that eating what we need can have on our bodies.
What's it all about
The tagline on the cover of 'The Medicinal Chef' reads "Eat Your Way to Better Health", which pretty much sums up what Dale Pinnock's first major cookbook is all about. Pinnock understands that a busy schedule can get in the way of eating well and so has put together a collection of recipes designed to not only benefit specific medical conditions, but to be easily incorporated into everyday life.
The phytonutrient-rich recipes are divided into meals including (to name a few): breakfast and brunch, soups, light bites, quick main courses, weekend main courses and sweet treats – yes, you're even allowed treats. Each meal section contains a selection of tempting recipes that are marked with a colour-coded system explaining which part of the body it's good for (pink for skin, green for digestive system, and so on).
At the back of the book you will find a glossary of the 30 medical conditions. Each ailment is given a brief explanation followed by a list of specific vitamins and nutrients needed to combat them, the key ingredients in which you will find them and recommended recipes to translate them into seriously appetising dishes. For example, Greek pitta pizza for eczema and spiced cherry crumble for insomnia - beats warm milk any night.
What did we think
In the opening pages of his first major cookbook, Dale Pinnock tells his reader "I want to show you that proper food that will improve your health isn't sawdust-like muesli, mung beans or rabbit food." Leafing through the pages that follow, it won't take a reader long to realise he's not lying. From an immune boosting king prawn curry (also good for the skin, joints and heart) to Omega pesto pasta (good for pretty much everything) and a mint chocolate no-cheese cake (recommended for the skin, heart and taste buds), this book really does have a healthy recipe for every occasion.
Pinnock himself says his cookbook is ultimately about "simple enjoyable tools that will help us all move towards better health –with a full belly and a smile on our face." While some of the recipes are a little experimental (the cheating chocolate-orange delight, for example, is made predominantly from avocados), we love the idea behind 'The Medicinal Chef' almost as much as we love the sound of his banana-peanut oat bars.
This is not a diet book, nor is it an argument against conventional medicine. 'The Medicinal Chef' is simply a compilation of healthy meals that will benefit anyone's wellbeing, boosting the body's various systems and improving energy as well as giving the option to focus on specific health concerns. Although tackling a weighty subject, the book maintains a light-hearted tone and real enthusiasm for food throughout, as well as including the odd food pun which we love ('Holy shiitake pâté' anyone?)
Perfect for anyone suffering from migraines, acne or just a spot of culinary boredom, 'The Medicinal Chef' is available from www.dalepinnock.com for £18.99.