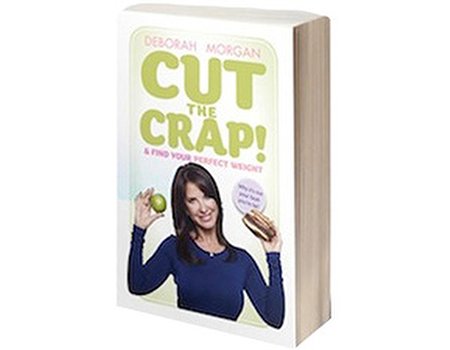 As the title might suggest, this book is all about no nonsense, straight-talking healthy eating. Deborah Morgan does not believe in diets and she does not mince her words and the result is a straight-forward approach to weight loss and long-term weight management. Oh, and quite an amusing read too.
Who wrote it?
Deborah Morgan is a renowned health and weight loss coach. She is a Clinical Hypnotherapist and Cognitive Behavioural Therapist determined to help people improve their quality of life by promoting good health. She has a private practice in Cheshire where she offers one to one weight management sessions, Colonic Hydrotherapy treatments and smoking cessation.
What's it all about?
"Cut the Crap & Find Your Perfect Weight" is a diet book determined to teach the world that diets don't actually work. This book is all about losing weight by changing your attitude, way of life and cutting out anything Carcinogenic, Refined, Addictive or Processed.
Morgan's book is a refreshing take on weight loss. It does not preach about what you must or must not eat. There are no forbidden foods or rules ("rules are just there to be broken.")The book instead focuses on what makes people put on weight (eg emotions, negative thinking or a reliance on diet food) and recommends changes that can be made, learning to 'eat like a man' for example.
The tone of the book is straight-talking but deeply personal and actually very warm. Morgan draws on her own experiences of life and food and speaks directly to her reader in a clear and friendly tone. Her book is littered with nuggets of advice or information like "Little pickers wear big knickers", which might sometimes seem a little blunt but are certainly true and quite amusing. While this book forces readers to consider a few uncomfortable truths about themselves and their lives, it does so in a way that is encouraging and often humorous.
While Morgan does not dictate foods to eat, she does recommend a few of her 'favourite things', all of which are healthy and hearty. She also encourages her reader to avoid things like diet foods (diets don't work remember) and explains the effect too much acidic food had on fat and the body – a very interesting chapter.
What did we think?
We have to admit, a first glance through this book scared us a little. We worried some of Morgan's advice might be a little extreme for our sensitive souls, for example, encouraging us to avoid dairy with lines like 'If you want to look like a cow, keep drinking like a calf.'
After a closer read, however, we discovered Morgan's approach isn't actually all that 'boot-camp'. She might come out with a few harsh-sounding one liners designed to shock us into action, but the majority of the book is actually very encouraging and understanding of what it is like to struggle with your weight in a world full of temptation and an entire industry devoted to diets.
We particularly like Morgan's 'there are no rules' approach and philosophy: "It's the dosage that's the poison. A little of what you fancy does you good" (we like anything that lets us eat chocolate occasionally). Her approach to food is realistic, healthy and easy to incorporate into daily life.
We might not follow all of her advice to a t (she has some fairly extreme views on meat and dairy) but that's not what the book is about, and we get the impression she doesn't really expect us to. 'Cut the Crap' is not about depriving yourself, but learning to think sensibly about food. The main message behind this book is one of positivity and learning to like yourself and be happy. And we think that's quite nice really.
Deborah Morgan also hosts Breakfree Retreats – a chance to escape away in a luxurious environment and cleanse using freshly prepared juices. Celebrity fans include Lauren Goodger and Charlie Brooks, and UK breaks in Herefordshire start from January. breakfreeretreats.com