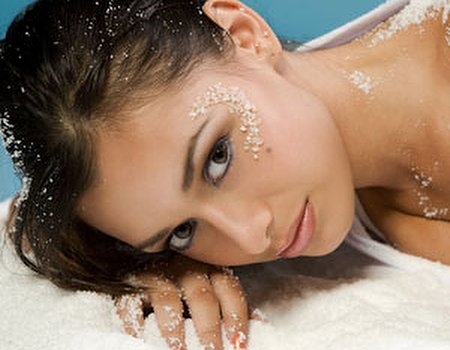 Winter weather is well on its way and we all know that its prime victim is our skin. Elemis expert Noella Gabriel gives some top tips for keeping your skin silky soft and protected throughout the cold months.
"Winter brings with it harsh weather, shorter days, less sunshine, and a dramatic change in diet from seasonal salads and fruits to soups and warmer food, which all has a direct impact on the skin.
The skin responds in a different way for each individual; some skins become oily, others very dehydrated and others very sensitive."
Winter skin needs:
1. Protection
2. Nourishment and extra nutrients
3. Pampering and nurturing
Exfoliate
Never miss an opportunity to promote daily body brushing, which brings immediate benefits to the skin, i.e. smoother appearance, good skin tone, plus it stimulates circulation and lymphatic so it speeds up the elimination of toxins as well.
There is nothing better than to slough off the winter build up of dry skin with a salt exfoliator, which leaves the skin super soft and moisturised. Hands and feet are areas that need particular attention and salt scrubs are a great medium as skin usually is tougher and harder to remove.
Moisturise
Apply a fine layer of the Exotic Frangipani Monoi Moisture Melt, which rapidly quenches the body's thirst and leaves the sought-after body sheen and cared-for look. If your skin is particularly dry it is recommended to follow this with a light layer of body balm which ensures long term hydration.
Nurture
Nurturing is something I feel is more important in the winter than the summer months. It is the ideal time to run a body-temperature bath and select your exotic bath oil or milk. Whilst in the bath and while the skin is warm and soft, perform your home facial ritual within the coziness of your own bathroom.
Apply a fine layer of Papaya Enzyme Peel, leave on 5-6 minutes and remove with a warm flannel with 2 drops of Lavender on it, roll down over the face, inhale deeply and remove.
Then apply a fine layer of a moisturising mask - ideally if you can, leave it on overnight to be absorbed. If not, remove and finally apply your Pro-Collagen Marine Cream.
Body
Hands are exposed to a lot of aggression and the good news is they respond to a little TLC. Once a week exfoliate with the Exotic Lime & Ginger Salt Glow and apply a fine layer of the Exotic Frangipani Monoi Moisture Melt, and then seal it with the Intensive Hand Repair; this will ensure your hands come through the winter looking glowing and cared for.