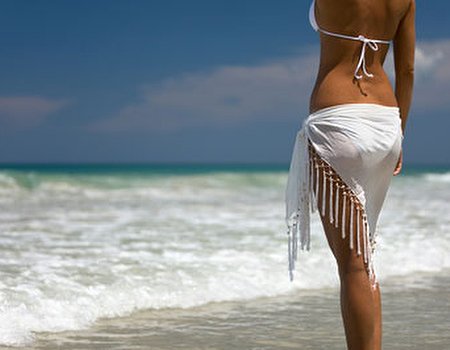 We've asked Lyndsey McKie, manager of the Manchester branch of aesthetic beauty clinic DestinationSkin who has years of experience in advanced skin treatments for her top tips on getting the best looking beach body this summer.
Lyndsey says: "Most women love holidays and warm weather but feel self-conscious about showing off their bodies in bikinis. But what many women don't realise that thanks to modern technology we can sort out most of their issues – without surgery. So in order to get the perfect bikini body, all year round, I suggest a trip to a professional skin clinic, such as DestinationSkin, where everyone can get personalised advice on the most effective treatments and products for their skin".
1. Go hair-free Start with a course of laser hair removal, especially on traditionally hairy areas such as underarms, bikini and legs. The treatment is quick, safe and effective and the fantastic results will leave you wondering why you haven't done it before! Not only will your body be smooth, gorgeous and razor bumps-free, but you won't have to spend time shaving every day which equals more time relaxing on the beach! It's an ideal solution if you want a smooth body and fuss-free holiday. You will need around 6 treatments so you need to start now!
2. Banish the blemish If you don't wear a sunblock every day, all year round or you have a mature skin, chances are that all exposed areas of your body: face, shoulders, cleavage, hands and knees are covered in pigmentation and age spots. These will only get darker and more prominent when exposed to the sun. You can treat them easily with Intense Pulsed Light (IPL) and follow up at home with a lightening serum, such as SkinCeuticals Phyto+ with kojic acid.
3. Don't be vein Unsightly leg veins can be a problem, especially as you get older, and you will be showing those lovely pins of yours all the time whilst on your hols! But thankfully they too can be treated with IPL or special injections into the veins which will significantly reduce their appearance.
4. Perfect yourself Assess your body and face in front of the mirror: are there skin tags (tiny bumps of excess skin) on your body (very common on your stomach and just under the bra line)? Do you have any milia (white spots) or broken capillaries on your face, or any other skin imperfections? They will all be even more visible under the bright sun but most common skin problems can be removed with advanced electrolysis – the treatment is so quick and effective, no one will even know they were there!
5. Peel off If you don't exfoliate regularly, chances are that your skin is blotchy, uneven and dull-looking. As you will be using less make up on your holiday and often going au naturelle, taking care of your skin's condition is a must. Regular, deeply exfoliating skin peels or microdermabrasion will exfoliate dead cells, minimise fine lines and wrinkles and reduce the size of your pores so your skin will appear naturally radiant and beautiful.
6. Smooth things over Most women would like their bum and thighs to be smoother and more toned, especially when showing off their new bikini! If you're not a gym bunny but would like to keep the dimples just on your face thanks, try the Murad at home cellulite treatment: a good body scrub followed by the Firm & Tone serum with Cayenne Pepper to stimulate and treat the skin on the outside plus dietary supplements taken daily to support the skin's structure from the inside will give you up to 69% reduction in cellulite.
7. Drink up Even if you have a great skin, you need to hydrate it regularly – both from the inside by drinking lots of water but also topically with a moisture-rich cream and serum. You should do it every day, all year round but especially when you're exposed to dry conditions such as air conditioning or the sun. If you want supple, smooth skin, I recommend using hylauronic acid based products with vitamin B5, such as SkinCeuticals Hydrating B5 gel or Dermaquest Advanced B5 serum every day before applying your moisturiser for maximum benefits.
8. Cover up If you have a bruise, a scar (for example after your C-section or surgery) or a blemish that you're desperate to cover up on the beach, camouflage foundation is a well kept secret of many women. Originally designed for use on post-procedural skin, Lycogel is a breathable foundation with incredible healing properties which reduces redness and swelling, camouflages imperfections whilst protecting from further damage with vitamins and SPF 30. It is also waterproof for up to 90 minutes so you can apply it to anywhere on your body and hit the beach confident it's not going to rub off!
9. Make it up For some of us, holiday is a break from wearing make up – well certainly not for me! So if you like your make up too much to leave it at home but you want to save yourself some time every day, try permanent make up. It can enhance your natural features, define your eyebrows, lashes and lips and give your face that eyelift effect without surgery. And if you can't live without your foundation and eyeshadows, try Youngblood mineral make up: it doesn't clog the pores and protects the skin with natural sunscreens.
10. Use protection And last, but certainly not least: make sure you wear a good quality, broad spectrum, high spf sunblock every day for maximum protection from burning and premature ageing. Skinceuticals, Murad, SkinMedica and Dermaquest have all created fantastic sunscreens which are light, non greasy and have great anti-ageing properties.