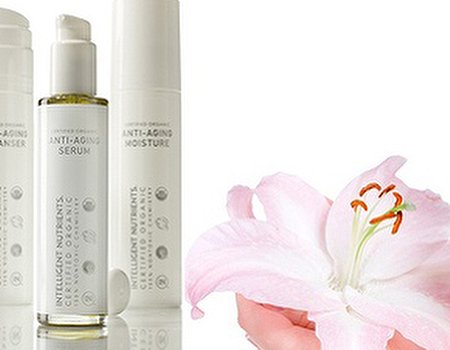 Wahanda lovers are always asking us how best to preserve complexion perfection as they age. As advocates for natural beauty, we believe the best products are, well, natural. That's why we were so excited to learn about Intelligent Nutrients' nurturing, 100% organic products.
Intrepid aesthetic explorers that we are, we tried and tested their ravishing range so see whether nature's nicest nutrients can compare with their chemically conjured counterparts. We were pleasantly surprised....
The brand
Intelligent Nutrients believe in only putting products on your body that you'd be happy to have in your body. So much so that if you really wanted to (if you really, really wanted to....and we don't recommend it...) technically you could eat them. The key pampering powerhouse ingredient is Intellimune Seed Oil Complex which, along with added antioxidants, fights off the harmful toxins and environmental impurities that can lead to cell ageing, inflammation and wrinkles. They're even certified by the United States Department of Agriculture...
The product
Anti-Aging Moisture Lotion
The first thing we noticed about this luscious lotion is how light it is. Unlike thicker moisturisers it has a thinner texture, meaning that it glides over skin without dragging. Our skin felt instantly refreshed, smooth and soft. The products in this range all contain potent essential oils, so not only are they effective but they smell delicious too.
Anti-Aging Cleanser
This clever cleanser is non-foaming, with a creme base that maintains the moisture balance in sensitive skins- perfect if you tend to find cleansers drying. It has a lovely smooth feel upon application and rinses away easily, leaving our faces feeling fabulous. As with all Intelligent Nutrients products this premium product hasn't been tested on animals, so it's good for your conscience and your confidence.
Anti-Aging Serum
This antioxidant restorative blend 'feeds' the skin, moisturising and plumping it without parabens or silcones. we were pleasantly surprised by how easily it was absorbed. Far from being oily, it left our skin feeling smooth and nourished.
The result
Intelligent Nutrients really are the smart way to take care of your skin, fighting the signs of ageing and negative environmental impact at the same time. And who wouldn't choose a naturally virtuous product over a chemical cocktail, especially when the results are this good?
Find more fantastic ways to do away with wrinkles and fight furrows with Wahanda's fabulous facial treatments.