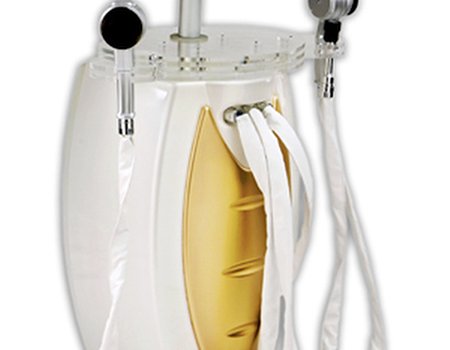 Prepared for party season? No, neither are we, but it's never too late to start slimming into shape for that little black dress. Sometimes no matter how much we hone and tone there are 'problem areas' that refuse to budge. With hundreds of spa treatments aimed at creating a svelte silhouette, it can be tough to work out which do the business.
The festive season is looming so Wahanda leapt at the chance to try the new ''The Coax Medical Thermolipolysis'' at Adore Me, Kensington. This tantalising treatment claims to tighten, tone and even dissolve fat to create a sleeker, sexier you.
The Venue
Set on Kensington High Street, Adore Me is a gorgeous salon with a boutique feel. The designer wallpaper and luxe layout create a fabulous atmosphere, as does the lovely receptionist who greets me with a smile, hands over the new customer forms and offers refreshments. The Coax (pronounced 'Co-Ax') itself is carried out by a friendly, professional therapist who quickly arrives to usher me into a private treatment room.
The Treatment
Before the treatment begins my therapist conducts a full consultation, asking not only about my medical background but also my body niggles and targets. Her calm manner puts me instantly at ease and before I know it I'm telling her all about that annoying 'mini tyre' I just can't seem to shift. She then takes 'before' pictures and measurements and explains the various courses of treatment available to my Buddha belly and me.
Next she explains all about the Coax treatment, a new approach to non-surgical liposculpture using two forms of energy- 'Cavitational Ultrasound' and 'Radiofrequency'- to create the best results.
A conductor pad is applied to my back to create a circuit between myself and the machine, before a light gel is applied to the skin. The Cavitational Ultrasound applicator is then moved over the treatment area. The ultrasound waves travel through the skin, 'bouncing' back up off harder areas such as bone and freeing dissolved gas in the form of tiny bubbles. These bubbles disrupt the fat cells and help to break them down. So far, so scientific, and the treatment is completely painless. Apart from a quiet ringing sound (apparently this is the sound of the faint vibration from the machine moving through the body) I can't really tell the ultrasound is happening at all. Much easier than an hour in the gym!
Next up is Radiofrequency. This energy heats up fat cells, breaking them apart and sending them to the lymph nodes for the body to dispose of naturally. The heat itself is magnified as it moves down through the dermal layers, creating no damage to the skin. During treatment the heating sensation grows, becoming slightly uncomfortable towards the end, however my talented therapist was able to gauge the temperate sufficiently to keep things from becoming unpleasant.
Finally the 'shower head' type applicator is turned onto a light suction setting and drawn across the skin to guide the newly released fat to the lymph nodes. It is recommended that clients drink 2 litres of water per day for the four days following treatment to help 'flush' this fat out of the body. Unlike other fat releasing treatments no exercise is required after your session. Simply relax and wait for your lymph to rid you of the lard.
The Results
If you 'plump' for the stomach area, 12 once-weekly sessions are required to see dramatic results. Having waited the necessary four days to see if there were any results I can safely say I did see a slight toning effect, especially around my waist. The skin looks firm and, combined with healthy eating and drinking plenty of water the whole area seems a bit flatter. Coax has amazing results on areas from under eye bags to saddlebags, and is especially fabulous for toning up below par bottoms. Whilst the 12 week programme is not a quick fix, results are impressive and last for up to 2 years. Coax is definitely one to check out for lasting fat loss and skin tightening, now where's that skimpy frock...