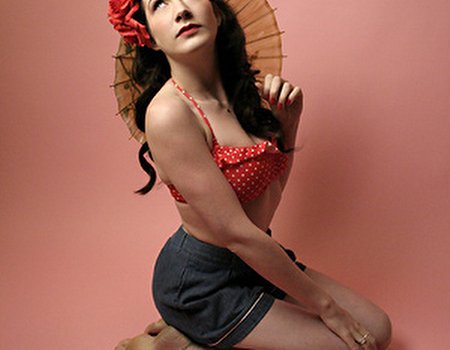 Vintage, burlesque, cabaret or pinup- whatever you want to call it forties fever has the fashion world in its grasp this season, taking celebrities by storm and making scarlet lips and nipped in waists the look du jour. If you long for an elegant time when ladies were more von Tease than sleaze then The Pinup Studio's marvellous makeovers are for you. This female run studio aims to bring out your inner femme fatale in a classy, empowering way- and leave you with some gorgeous images to treasure.
In search of some festive glamour (and perhaps even an antidote to our camera-shy ways) Wahanda set out to investigate and were certainly not disappointed.
The Venue
The Pinup Studio is handily located at Studio 180 on the Lambeth Road, a two minute hop from Lambeth North tube station. A bohemian 'household' of studios there's certainly nothing clinical or mass produced about this unique gallery cum workshop – perfect for a boutique photo experience, it was bustling with preparations for an art exhibition during my visit.
I was greeted by the lovely Jessy, female photographer and owner of The Pinup Studio, and instantly offered tea or bubbly. The studio itself is an Aladdin's cave of vintage treasures, from the make-up artist's station heaving with high-end products by Illamasqua and Mac, to cabinets full of hair flowers and the retro music playing in the background.
The Treatment
It takes some work to get that picture perfect pinup look so the first thing to do was talk hair and make up over a cup of tea. Being of an 'up for anything' frame of mind I let the fantastic make up artist go to town with full make up, bright red lips and a set of victory rolls that Dita herself would be proud of.
I'd brought several outfit choices with me, from shorts and cute tops to lingerie and stockings. The ladies were extremely supportive, using their more artistic eyes to come up with several ideal outfits and accessorizing them with the studio's authentic props. Ladies with a thing for heels take note- this is the perfect opportunity to show off those shoes without having to walk in them.
Next came the scary bit- the photoshoot. Please note dear Wahanderers, I hate having my photograph taken. I am possibly the most unphotogenic person in the history of cameras and will take any opportunity to hide or pull silly 'comedy' faces. Luckily Jessy was an absolute gem. Although wooden at first I soon warmed up over the course of four outfit changes and a lot of laughs. Before I knew it I'd been pouting and prancing about for an hour and it was all over.
The Result
A flirty, fabulous, forties experience I've been raving about ever since. From start to finish I felt completely comfortable, if a little silly at first pulling 'shock' faces on an imaginary beach in December. The makeup was amazing and the hair even more so (it was still standing strong this morning and got many compliments in the office), Jessy's pinup poses truly make you feel like the real deal and the images at the end speak for themselves. I received my selection of ten this morning and although I wouldn't say that I now love the camera, I'm definitely tempted to return very soon. Purely for practice of course...
If you fancy transforming into a vintage vixen or perhaps treating a gorgeous girlfriend this Christmas, visit The Pinup Studio on Wahanda for some sensational deals, including the 'Starlet' package worth £250 for just £99.