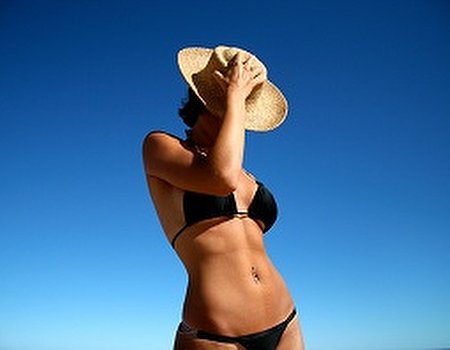 The summer is definitely here but it seems that no one told the weather. This leaves tan lovers with only one option- faking it. But which method to choose? From scary sun-beds to DIY kits, there are a million products on the market claiming to create a bronzed body. But how to know which will make you a golden goddess and which will leave you tango-tastic?
In the name of science (and looking pretty), I visited Pure Beauty Salon in Fulham to try one of the latest products on the market, Beau Bronze. The product is endorsed by the Hollyoaks girls and Dancing On Ice celebrity contestants and has been named official tan of the Miss Great Britain pageant, so I was in good company.
The Venue
Pure Beauty is located a five minute walk from Fulham Broadway station. Gorgeously decorated with a boutique feel, I was immediately greeted by my friendly therapist who guided me downstairs to a private treatment room. Chatty and approachable, she put me completely at ease despite presenting me with a pair of paper knickers and a hairnet that wouldn't look out of place on a deli counter. Pure Beauty has a flexible approach to tanning, so whether you're more comfortable in your own underwear, those provided or nothing at all, it's entirely up to you. I was provided with a face wipe to remove any make up before being shown to the screened off tanning 'booth' area next door.
The Treatment
Once in the booth my therapist explained the process. I was impressed to find that BeauBronz is available in three shades, from an 'English Rose' colour (for paler skins like mine) to a more exotic depth of tan. I was even asked if I would like a light spray or a full tan on my face. Being somewhat terrified of the Katie Price look, I opted for the latter.
Next I was lightly sprayed with an exfoliating solution which was rubbed in with a mitt. This brilliant first step means that any deodorant or dead skin lurking on the surface is swiftly removed. The solution is also moisturising which creates a better surface for colour and means that the tan won't dry your skin out (unlike a real session in the sun). After half an hour on a hot tube the process was really refreshing. Then came the tanning. I was asked to stand with my arms out and sprayed lightly from an air gun. The mist was fine enough that there were no drips or splatters and the therapist talked to me throughout, telling me when to move and how to stand (all very simple I promise, no yoga required). The whole thing felt very quick and easy. Finally a light mist of setting agent was applied. Not only did this smell pleasant but it 'cured' the tan, making sure I wouldn't smudge and reducing my drying time down to 2 minutes.
After treatment I was guided back into the changing room and advised not to put my bra back on as it could get stained. Otherwise getting dressed again was quick and easy. There was even a large mirror handy for those who can't bear to leave without their mascara.
The Result
And so to the important part. I left the salon with a light, even, instant colour which deepened overnight. Having showered it off the next morning I was left with a completely believable tan without even the slightest hint of orange or pink. Far from looking fake, the tan worked with my skin-tone and left my skin smooth and supple. And the best part? As any fake tanning connoisseur knows, the biggest giveaway is always that distinctive tanning 'scent', but 24 hours later and I definitely do not smell of biscuits.
All in all a terrific treatment applied brilliantly by the lovely people at Pure Beauty. If you fancy becoming bronzed for a bargainous price, keep your eyes peeled for out BeauBronz spotlight offer tomorrow (Thursday 23nd June). Perfect for channelling beachy beauty without splashing out.