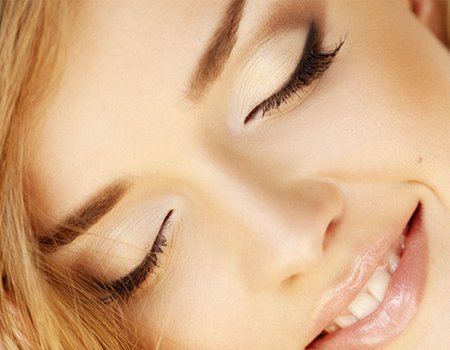 When they are good they are very, very good, but when they're bad they're horrid. Face framing arches can take years off, sculpt cheekbones and open up pretty peepers. Bad brows however can ruin an otherwise flawless face. From the over-plucked eighties look to the super-bushy cavewoman effect we are faced with a myriad of facial foul-ups, so it's often better to seek professional advice.
From plucking and threading to tinting and waxing, making a depilatory decision is tough. But fear not- the hottest new HD Brows Treatment combines all of the above with highly trained therapists and exclusive techniques. Could this be the route to the eyebrows of your follicular fantasies? I set off to Anesis in Clapham to find out...
The venue
Perfectly positioned opposite Clapham Common tube station, Anesis gives a great first impression. Gleaming glass and tiled floors give the reception a luxe spa feel, leading onto an open plan fish pedicure area with sleek leather seats and sparkling-clean tanks. The staff are also sensational, from the super friendly receptionist who alleviates my waxing fears to the therapist who promptly appears to whisk me into a private treatment room.
The treatment
At this point I must make a confession- I am an eyebrow treatment virgin. 'No way', I hear you cry, 'How can she possibly have managed 25 years without blitzing those brows?'. Reader, I DIY'd them, and not with any degree of professionalism. More of a hit and hope, tweezers and aspirin affair. As a result the idea of placing my face in a therapist's eager hands left me a little nervous.
Luckily this beautician was brilliant. After a short consultation to discuss how much of a change I was after, she began by waxing underneath, between and above my arches. To my surprise this was virtually pain-free, akin to pulling off a small plaster. Feeling brave we moved on to tweezing. A few short plucks and we were finished. Next came a tidy-up trim and the threading - the removal of teeny tiny baby hairs above the brow and around the temples using a twisted thread, expertly maneuvered. My brow guru explained that this is crucial to the HD Brows 'look', since getting rid of these downy pests makes the brow really 'pop'.
Usually after threading comes tinting, however I opted to skip this part - having recently had my hair bleached a super silvery shade of 'almost albino' blonde, we didn't feel that going darker in the brow department was a good plan. Finally a clear brow gel was applied to keep them looking sleek and shapely.
The result
I couldn't believe the difference. Despite my home grown efforts I have never had very abundant arches, so I was shocked to see how much more 'groomed' they appeared. HD Brows go against the traditional grain by shaping in straight lines instead of a curve. This gives that angular 'Hollywood' brow shape seen on celebrities everywhere.
Far from returning to the Wahanda office resembling a dinner lady (those drawn on navy brows have haunted me...) the reaction was overwhelmingly positive. Even my boyfriend noticed the difference, the highest of all accolades. A week later and even without liner or gel my peepers look perfected. I'm a convert and will absolutely be returning to Anesis for a top up in the near future.